Lowriders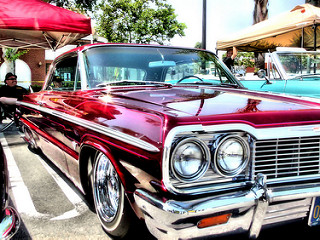 Hang on for a minute...we're trying to find some more stories you might like.
Pc:Flickr
"Low-riding" itself is about driving slowly in a low-ride car. The car itself is named for the frame that is lower than usual and almost contacts the ground. It's all about the final results of a car or truck that are highly customized.
                                                                                                                                                                     Pc:Google
The customization of the vehicle includes both exterior and interior. The cars that are converted includes 1960s Chevy Impalas. One of the key features of low-rider cars is the hydraulics and the suspension air bags that are installed so the the car's body can be easily raised and lowered by pressing a button. Bad roads, speed bumps, and bad suspension helped to inspired low-rider cars and trucks. These are some of the reasons that hydraulic lifts were installed on automobiles to emulate the rough rides caused by bad roads and suspension.
I got my information at Pc:Info