Top 10 Greatest Football (Soccer) Players Of All Time
When it comes to the greatest football players of all time, many people have different opinions on it and list different players in their top 10. Here are my top 10: 
         10. Alfredo Di Stefano- Scoring an impressive 511 goals in 702 games for Club and Country, Di Stefano was among the best of his time if not the best of that era. Di Stefano made history with Spanish club Real Madrid, when they won the first ever European Cup in the 50's. Di Stefano led Real Madrid to 5 straight European Cup finals and won as well as scored in all of them.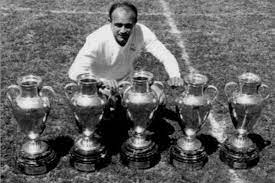 He marked an era at Real Madrid and will go down in history as one of the greatest players of his time.
9. Ronaldo Nazario- One of the most technically gifted players of all time, Ronaldo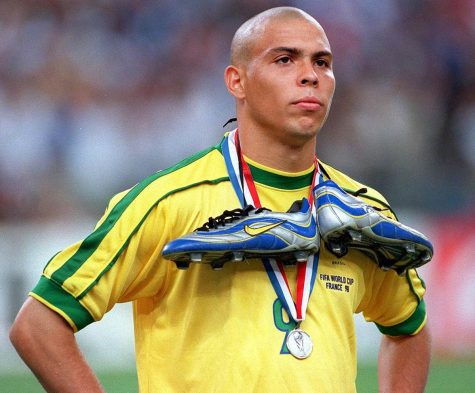 Nazario was one of the best strikers to play the game. Known as 'O Fenomeno( Meaning "The Phenomenon"), Ronaldo started his career in Brazilian club, Cruzeiro, before making the big stages in Europe. Ronaldo went on to win the 1996 FIFA world player of the year, making him the youngest player to receive the
award. However, Ronaldo still went on to win the 2002 FIFA World Cup, scoring twice in the final match. 
8. Ronaldinho- Widely regarded as one of the game's most skillful players with his flashy passes and creative skills, Ronladinho was one of the world's most influential players of his time. He went on to play for top teams like PSG, Barcelona, and AC Milan. Ronaldinho won the 2005 Ballon d'Or with Barcelona. He then joined Italian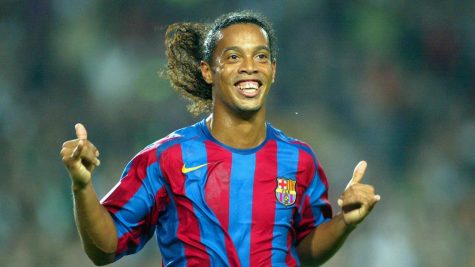 side AC Milan and won the Serie A title with them in the 2010-11 season. He had 97 appearances for Brazil and scored 33 goals and represented his country in 2 FIFA World Cups. Ronaldinho was a crucial player for Brazil in the 2002 FIFA World Cup which they won and was named in the World Cup All-Star team.  
7. Paolo Maldini- The best defender to grace the game, Paolo Maldini was a once in a lifetime player. Maldini spent his entire senior career at Italian club, AC Milan. Maldini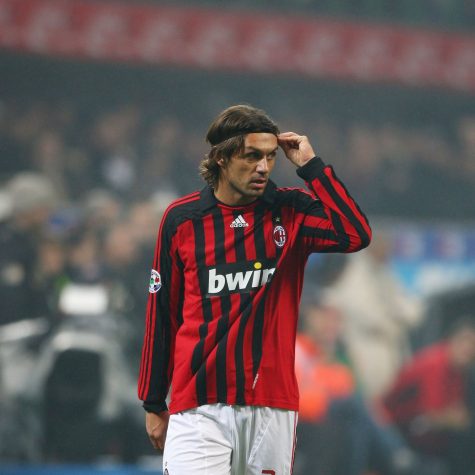 played professional football for over 25 years and retired at the age of 41 in 2009. He captained Italy for 8 years and managed to reach the final of the 1994 FIFA World Cup and the 1996 Euro. He didn't win a title with Italy during his international career but he captained them amazingly. Maldini holds the record for most official appearances for AC Milan with 902 official appearances in all competitions, and he is one of only 32 players to have over 1,000 career appearances.
6. Andres Iniesta- A midfield genius, and a great leader, Iniesta was a player any team would want in their squad. Spending most of his career at FC Barcelona, Iniesta was a special talent to come out of the Barcelona academy (La Masia). Iniesta's ability to pass, dribble, and keep the ball was special and they were key parts to his style of play.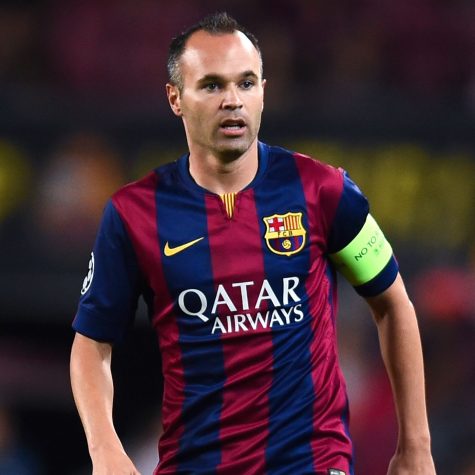 Iniesta was crucial in Spain winning the UEFA Euro in 2008 and he scored the winning goal in the FIFA World CUp to give Spain its first ever World Cup victory. Spain also went on to win the UEFA Euro in 2012 again making history for being the first country to win the competition back-to-back. Iniesta was a prime example of a great leader and a playmaker, and he will be greatly remembered as one of the greatest midfielders of all time. 
5. Zinedine Zidane- Zidane, a master of the game. One of the greatest playmakers and dribblers of all time. The best French player to touch a football. Zidane was an all-time great. On and off the pitch, even.  Zidane was a player of great elegance, vision, passing, ball control, and technique. He dominated in all the leagues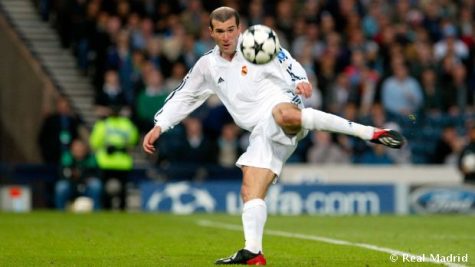 he played in, winning a lot of trophies in the process. In Italy, he won two Serie A titles. In 2001, Real Madrid bought him for a world record fee at the time of €77.5 million. Zidane won a La Liga title as well as the UEFA Champions League in 2002, scoring the winning goal to which many consider to be one of the greatest goals in the competition and of all time. Zidane was also awarded the 1998 Ballon d'Or, an award given to the best player of that season. For France, Zidane was a crucial player. He had 108 appearances for France, and he scored 31 official goals during those 108 appearances. Zidane also led France to a FIFA World Cup trophy, and even scored twice in the final. 
4. Johan Cruyff- Johan Cruyff was one of the most complete players of all time. He started his career at AFC Ajax in the Netherlands, where he scored an outstanding 190 goals in 240 games for the club. Cruyff led Ajax to 8 league titles, 3 Champions Leagues ( previously named European Cup), and one Intercontinental Cup. His ability to control the ball, pass, and shoot the ball was a true gift and he was widely considered among the best during his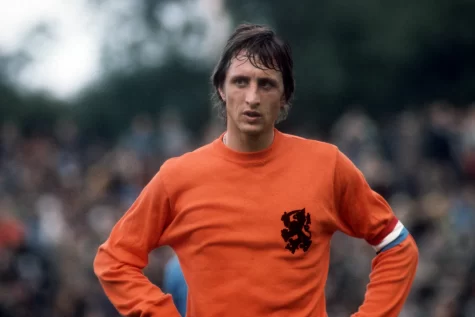 career. Cruyff individually won many awards but the most important were the Ballon d'Ors. Cruyff won 3 of them in his career and is tied at 3rd for highest earning player of the award, being behind Cristiano Ronaldo and Lionel Messi. Cruyff led the Netherlands to the 1974 FIFA World Cup Final against West Germany. They ended up losing the match 2-1 but Cruyff was named Player of the Tournament. Cruyff introduced many new styles of play into the world of football.. May he rest in peace.
3. Diego Maradona- Diego Maradona, before Cristiano Ronaldo and Lionel Messi,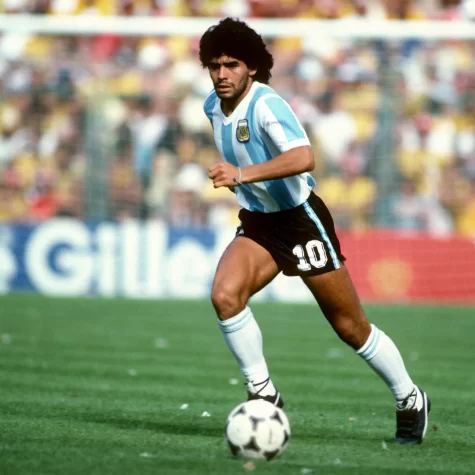 was widely considered as the greatest footballer to ever play the game in history. Maradona played as an attacking midfielder, and he had almost every attribute you could want in one. He had the pace, 
the dribbling, passing, shooting, and vision. Starting his career in his home country,  For Argentina, Diego thrived tremendously. He led Argentina to a World Cup Final in 1986 against West Germany, where Argentina beat West Germany 3-2. Maradona was a controversial figure during his career, but his goals and ability to play the sport made him impossible to hate. May he rest in peace.
2. Lionel Messi- Considered by many as the greatest player of all time, Lionel Messi is a once in a lifetime player. He started his professional career at FC Barcelona, where he scored a record 672 goals in 778 games for the club. Messi also holds the record for most Ballon d'Ors, with 7 to his name. His technical ability on the ball as well as his vision and his ability to finish was unlike any other player.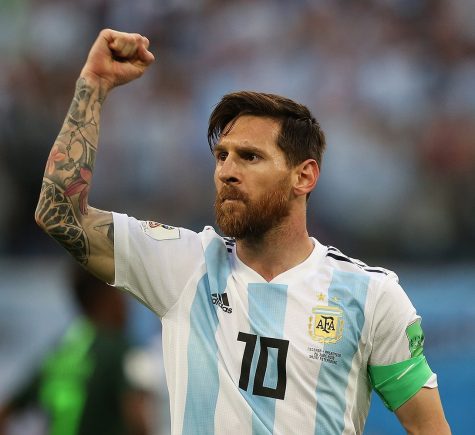 For Argentina, Messi has played 162 games and has scored a record 86 goals for his country, making him the all time top scorer. Messi led Argentina to a World Cup final in 2014 against Germany, but unfortunately lost the game 1-0 in extra time. Although they lost, Messi was named Player of the Tournament for his exceptional performances.
Cristiano Ronaldo- Cristiano Ronaldo, also considered by many as the greatest player of all time, was a perfect example of hard work and dedication. Every team Ronaldo played in, he excelled in. Ronaldo didn't earn his success easily. He had to work for it, and that's exactly what he did. He had a lot of confidence for a teenager and was very fast and had decent ball control. Ronaldo was noticed by legendary football manager, Sir Alex Ferguson, who was coaching Manchester United at the time and was highly impressed in Ronaldo's ability. Ronaldo was presented as a Manchester United player the following season for a fee of £12 million.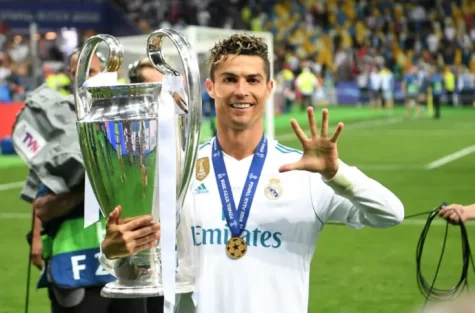 Ronaldo won his first Ballon d'Or at the age of 23 and began a rivalry of the award with Messi that would stretch out over 10 years.  Ronaldo had it all. The pace, passing, shooting, heading ability, dribbling, playmaking, free kick ability, and weak foot ability.  Ronaldo also went on to win 4 more Ballon d'Ors, competing with his long term rival, Lionel Messi, who was 2 more than him. He became Portugal's all-time top scorer and the player with the most International goals of all time, with 117 goals scored in 188 games. He will go down in history as one of the greatest players to play the game and one of the most influential athletes of all time.