The Work Of Art From Alexander McQueen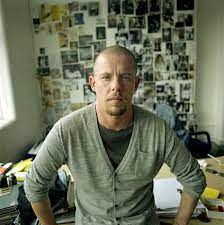 Alexander McQueen, one of the best fashion designers to exist, thinks outside the box with his spectacular designs. With his dream-like clothing, you sit in awe just perceiving it. Not many fashion designers can captivate the viewer with their perfect designs, that's what makes Alexander McQueen so unique.
Alexander McQueen was a head designer for the infamous brand Louis Vuitton-owned Givenchy fashion line. He later created his own menswear line in 2004. Alexander Mcqueen is known as the most influential and innovative designer of all time, and that title isn't easily given out. It's well deserved, with his classy, extravagant, and professional clothing that is used on the runways. While he was appointed creative director at Givenchy, he was not received well by others. They referred to him as, "the hooligan of the English Fashion," According to BBC. Despite his many critics, in his first year at Givenchy, McQueen was awarded the British Designer of the Year. Though this wouldn't be the first time he wins the award, he later is awarded it 3 more times throughout his career.
There are many infamous fashion pieces that Alexander McQueen created, like the skull scarf, the skull became a symbol Alexander McQueen is famous for. Alexander McQueen's fashion pieces are even seen in music albums, Björk's Homogenic album is a huge example. The fashion piece used is a perfect match for Björk's style in music and fashion.
Alexander Mcqueen had a desire to push social norms and barriers beautifully and not disruptively. "You've got to know the rules to break them. That's what I'm here for, to demolish the rules but to keep the tradition." Alexander McQueen consistently promoted freedom of thought and expression, and championed the authority of creativity. Originality was Alexander McQueen's specialties, with his methods of cutting and construction. You can truly see his expression of freedom of thought in his tailoring skills, "Everything I do is based on tailoring" said Alexander McQueen.
Alexander McQueen's work can be perceived as romantic but dark, Alexander McQueen had said "People find my things sometimes aggressive. But I don't see it as aggressive. I see it as romantic, dealing with a dark side of 
personality." It was obvious, Alexander McQueen wanted to form this new era of fashion, and he was doing just that. It drew inspiration from Edgar Allan Poe, especially in the Victorian Gothic style. "There's something kind of Edgar Allan Poe," he once observed, "kind of deep and kind of melancholic about my collections." During this time, I think it was his best design, it was designed no one has ever seen before.  He's paved the way for many young fashion designers, his impact was like no other.