It's *Drum Roll Please* SPOOKY SEASON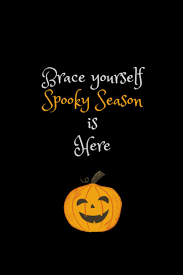 It's Fall!
Welcome back, ladies and gentlemen. Today's topic is fall-related. The month and time we have been waiting for has finally arrived! After 9 long months, it's finally spooky season, followed by Turkey day, and then Christmas. Be honest with yourselves–January to September are a blur, and the months we really look forward to are the last three months (unless your birthday is in between those months). 
Anyway, the weather is warm, sunny, cloudy, cold, windy, rainy (sometimes), beautiful, and what better way of commencing the fall season than watching Halloween movies, buying a Starbucks pumpkin spice latte/frappuccino, going to your nearby Target or Walmart and buying Halloween PJ's, and going with your friends or significant others to the pumpkin patch or fruit picking (hey, it's a thing). Stop being a couch potato and enjoy this month because before you know it, it will end and so will November and December and the year will end, thus having us start all over again. BOO!!!!!
We are teenagers and are supposed to have fun. We're only teenagers and high-school students for a limited time, so we have to enjoy our years before it ends. Besides, nowadays, everybody goes to Pinterest and gets an idea of fall and gets super excited, and starts planning the month of fun and exciting things to do. 
Fall has always been my favorite season and the little things fall-related always get me excited. Since California has one season and I've never experienced the East Coast's four seasons, any little sign of the fall season in California weather makes me happy. In the first week of October, there was thunder and lightning, accompanied by rain for ten minutes (because of course, it's California) and it made me realize that fall is here! Even California knows it! So, go out and have fun! One day, you'll be looking back at your teenage years and wish you've done something fun because the years pass by very quickly.