4 Things You Can Easily Cook/Bake
Small Bread Balls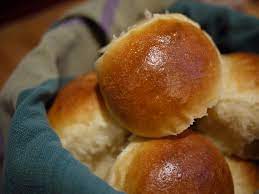 Ingredients:
1 slice of butter

7 table spoons of milk
1 egg
3 table spoons of sugar
20 tablespoons of flour
0.5 tablespoons of salt
1 teaspoon of yeast
You must first get the milk and pour it into a big bowl, next put in the yeast to the milk after that you'll need to put in the sugar, after that you'll whisk it all together. After whisking grab the egg and crack it into the mixture and whisk it together again leave it for 5 min, next grab the salt and pour it in with that pour in the flour with it as well then begin mixing them all thoroughly then it will become sticky-ish. Powder a cutting board or a normal board with flour and begin kneading the dough do this for 10 or 15 min then spread the dough and place the butter in the middle and fold the dough towards the middle, next begin kneading the dough again for another 10 min for the butter to fully mix. Place the dough in the big bowl and place something like plastic or something to cover it wait for it to double in size. You'll need to squeeze the gas out of the dough until all the gas is out, grab the dough, cut it into 6 pieces, begin rolling them into a ball, and place them on a tray and then cover them for 1 hr. Finally, put them into an oven for 170C or 338F for 15 min preheat it first tho. Great job you've just made 6 tiny bread rolls now you can put jam or peanut butter or even make a tiny sandwich out of it.
Cream Cheese Garlic Bread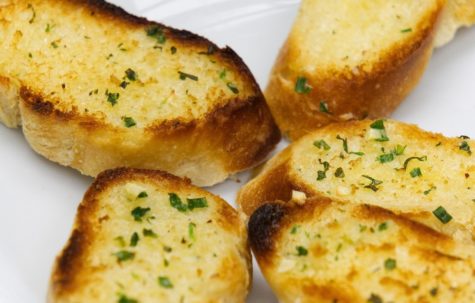 Ingredients
3 Dinner rolls

1 egg
2 table spoons of milk
1 block of cream cheese
1 block of butter
10 garlic cloves
1 Table spoon of parsley flakes
0.5 teaspoons of salt
6 tablespoons of sugar
You'll begin by cutting the rolls 3 times across grab the butter, garlic, salt, parsley,3 tablespoons of sugar, and pour in the milk all together in one bowl then heat it for the butter to melt in a microwave or melt it before and pour it in with the other ingredients. You need to grab the egg and crack it into the mixture then mix it, grab the bread and soak the dinner rolls in the mixture and make sure all of the bread is coated in and out of it. Grab the block of cream cheese and the rest sugar and put them all in one bowl mix them until all the sugar dissolves, grab a knife, and spread the cream between the gaps, and to finish it off place a dollop of cream cheese on top. Place them in the oven at 150C or 300F for 10-15 min. Fantastic! You've made cream cheese garlic bread a delicious snack for a picnic or a nice outing with your family or friends with a nice soda or juice laying in the sunny park.
Chocolate CheeseCake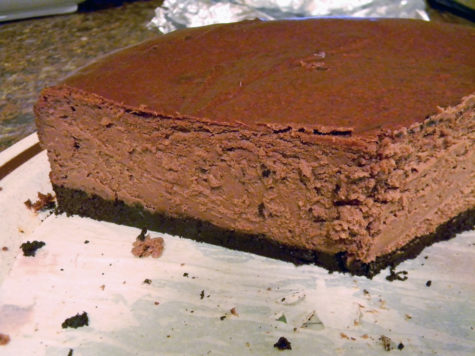 Grab the 14 oreo cookies remove and place both the cookie and cream in different bowls place the cookies into a bag and crush it up grab 40grams of butter and melt it then pour it into the bag and mix it together. Place the oreo into a 15cm circle mold, flatten the oreo, and refrigerate it for 20 min. Grab 200grams of dark or milk chocolate, cut it all up into bits, place them into a bowl in a pot of hot water,pot on the stove,or microwave it and melt the chocolate. You'll need 300grams of cream cheese and place into a bowl and mush it up into a softer fluff use 1 teaspoon of vanilla extract and pour it in with 40 grams of sugar and begin mixing it all until the sugar dissolves, grab the melted chocolate and pour into the cream cheese and mix it all until its all mix completely. Grab whipping cream and pour it into a bowl and whisk it until its a puffier cream,place that into the chocolate mix and mix it together until none of the white cream is left you can now pour that mix into the oreo mold and refrigerate for 4hrs. Pour 100grams of whipping cream into a pot on top of the stove and wait for it to bubble a bit, while it's heating grab 100grams more of chocolate and cut it into more bits and place it a cup,grab the heated whipping cream and pour it into the cup and mix it until the chocolate is melted. Use the chocolate whipping cream to pour it on top of the Cheesecake. Amazing you've made a chocolate cheesecake bring this to a family gathering or a friend meet up its a delicious treat when you want some cheese cake.
Sweet and Spicy Korean Chicken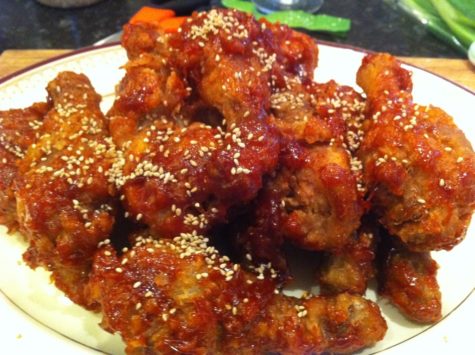 Grab 350grams of chicken tenderloin and cut it into bite-size pieces and place them into a bowl grab 3 pinches of salt,0.5 teaspoons of ginger powder,1teaspoon of minced garlic, 3 tablespoons of milk, and 0.5 teaspoons of black pepper place them all into the bowl of chicken and mix them all preferably by hand with gloves. In a separate bowl, grab 2tablespoons of sugar,1tablespoons of red pepper powder, 1 teaspoon of minced garlic, 1.5 tablespoons of soy sauce, 0.5tablespoons of oyster sauce, 0.5 tablespoons of ketchup,3tablespoons of chili pepper oil, and 3.5tablespoons of starch syrup and mix them well all together. In another bowl, grab 40 grams of frying flour,60grams of rice flour, 1 pinch of salt, and 100 milliliters of water mix it all until it looks pasty, grab the chicken bowl and place them into the pasta bowl and mix them until they are all coated. In a big pot of HOT oil, put the chicken inside wait until they are a bit of a golden brown don't cook them for a long time, use a wire rack and place the chicken on the wire rack so they can get some moisture out of it may be like for 2-3min, After that place them in the hot oil again until they are a dark brown color and place them back on the wire rack. With the red sauce prepared earlier pout it into a pan and on the stove and when it begins to boil,30 seconds of boiling while stirring place the chicken inside the sauce with some spicy peppers and mix them all for a while then add chopped up peanuts(unless you have allergies). Congratulations! You've made sweet and spicy Korean fried chicken a delicious meal to have with some soda while hanging out with friends of a meal you can take to work or school for lunch.
Remember: cooking is something many people can't do but you got to start somewhere. Just remember not to poison yourself or others and use this experience to test your cooking skills. Heck, even put your own little twist to the dishes or make them your own. Not only that, but you can post it on social media or share your dishes just be happy with what you make.
From your friendly, optimistic friend, 
-Josh.S 😀
Credits to: