The Chance for Marine Wildlife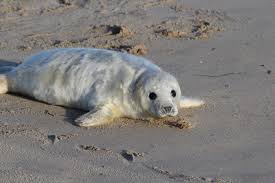 On September 1, 2020, a Madam by the name of Casedy Mclean is overseeing a 14,000 square foot of construction site in Des Moines, Washington. It looks like a small site of such but later on, "it will be a magnificent hospital for marine wildlife."
The reason that it was created is because people working there want these animals to have a chance in life by having them be in a shallow but big box like pool and they are built to have a marine animal that ways more than 1500 pounds.
Casedy is a veterinary nurse and an executive director of the sea life response rehab. Mclean hopes that once the marine hospital is built, the hospital can house up to one hundred specimens for each month. It can be, a safe haven so they could house the animals, where the animals can get medical treatment, and recuperate to get back into their right environment
Human lifestyle makes these animals have a hard time living in the ocean because of pollution, rising temperatures due to climate change, plastic, fishing, and more dangerous things that have been happening to marine wildlife not only polluting the water will affect the marine wildlife more it can affect other animals the life upon sea creatures. More of these actions have increased from the past decades data was shown from the National Oceanic Atmospheric. Many animals have been washed ashore dead or in critical need of help. That's why people have volunteered to help these animals to get them back to health and help the ocean, but yet it still seems that acts to help the animals are very difficult field medics trying to do check-ups and surgery. Additionally, rehab is nearly impossible to be performed.
Inside they have boxes colors being light blue and constructed from a nice and soft material suspended on hard material, the marine creatures are put in so the animals that aren't able to swim on their own can rest. These boxes are created to hold a wide range of marine creatures from baby seals to dolphins.
On the eastern part of the facility, there are tons of blue boxes ready for the seals so the baby seals can practice swimming then later on go to the bigger ones to practice.
A helper named Lindsay exclaims, "the area of South Central Puget sound will also be a tremendous help geographically" for the network, so it shortens travel time to treatment centers and reduces the stress the injured animals will have." It is also helpful for responders during the pandemic. They were given funds from an angel donor so they would be able to begin a field care program which was very helpful for them. The field says that a facility like Marine Mammal Center funding is mostly from private donors and Field says that "it is often hard to get up and running because the upfront costs are very high securing and being able to build the facility." They have a budget of $1.2million which is mostly to stock material and treat large animals.
If everything goes according to plan, the hospital will just be the beginning of this helping venture and the community knows how their lifestyle is affecting creatures offshore, so they do their best to give what they can.