Mrs. Lucareli-Rhoads's Career Journey
Who said that teachers can't audition for singing contests? Well, Mrs. Bella Lucareli-Rhoads just did! She auditioned on American Idol Season 19 to show and let them know about her angelic voice. Mrs. Lucareli-Rhoads is a teacher at Hueneme High School. She teaches English, Music Appreciation, and Journalistic Design, and she has a captivating voice. She talks about her singing career and passion. When she was young, she started taking voice lessons, and she has loved singing and performing ever since. Her voice improved through voice lessons, practices, and participating in performances like gigs, opera, and choir. 
Mrs. Lucareli is a classically trained singer-songwriter. Her voice is considered a mezzo-soprano. Mezzo-soprano is a type of classical singing voice of a woman whose vocal range lies between the soprano and the contralto. "If I can perform and make someone feel something, that means the world to me, and having some of my former students attend my gigs and reconnect with them as they continue to grow up is priceless to me," she said. She's a down-to-earth person who likes to make people happy by bringing joy through her music.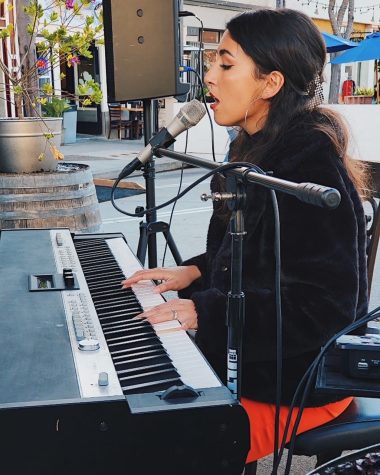 Although she loves singing and performing, she faced some tough challenges like second-guessing herself and self-sabotaging. She overthinks things, and that's what hinders her singing career. Thankfully, she started working on it to become a better person. "The lesson I learned from my failure is that if I don't believe in myself, how can anyone else?!" she stated. She also learned that music doesn't just look one way. At first, she thought that being successful meant that she had to be a pop star or go on world tours. Although it didn't happen, it didn't stop her from connecting with people and her students, and she was glad to be able to perform locally.
Mrs. Lucareli's motivation is the outcome of her performances. She sings the song the way she wants and dedicates her whole heart to it. Seeing other people dedicating themselves to their passion also inspires her to do the same. She's now a teacher here at Hueneme High School. Her teaching career came out of nowhere. She received her Bachelor's Degree in Music performance and wanted to have a flexible schedule; that's why she began to do substitute teaching after getting certified. She subbed for  Kindergarten to 12th grade and all different subjects. She enjoyed being a teacher and connecting with her students. She began to consider it a career and started to get her teaching credential at California Lutheran University in the summer of 2019. Mrs. Lucareli has her Master's degree in Education and is in her third year of teaching. Mrs. Lucareli has a lot of passion, and teaching is one of them. She also loves music, spending time with her family, animals, cooking, reading, and being outdoors. 
The most significant influence on her is her family. She considers herself a "family-oriented" person, and she's thankful for them, who have helped shape the person she is today.