The Dark History of Camarillo State Mental Hospital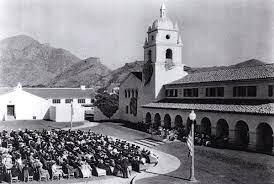 Camarillo State Mental Hospital was built in 1936 and it closed in 1997. They say that the Camarillo State Hospital inspired the 1976 song "Hotel California" which then inspired a Mexican hotel of the same name. Then, in 2018, The Eagles sued the hotel and settled.
Camarillo was the largest state mental hospital in the 1930's housing over more than 7,000 people. It was a place where they treated illnesses that couldn't be cured.They were one of the first hospitals to deal with people that had autism. In the hospital, they also used electro-shock therapy. 
The hospital is well-known because people believe that it is haunted. They think it's haunted because they believe that there is bad energy there due to the abuse and neglect that the hospital staff put on patients. During an investigation, a "psychiatric technician was arrested after a witness saw her beat a female patient with a fly swatter and an ice tray, and then looped a towel around her neck and choked her." 
Today, the old site is now Cal State University Channel Islands. So, if you want to check it out, you can take a class there. There are other interesting things to check out on campus like the "Scary Dairy," which can be difficult to get to, but you can talk to people who attend school there or Google how to get in. You can also check out Instagram by searching the hashtag #Scarydairy and find out how others have gotten there and what they experienced.