Spreading Love Not Covid: Harry Styles' Love on Tour Overview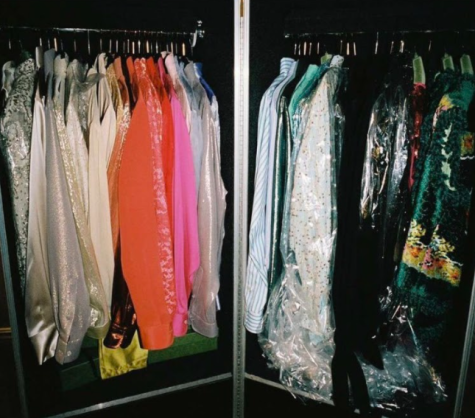 Platform shoes, rhinestones, and boas were all but a casualty at singer-songwriter and actor Harry Styles' 2021 "Love on Tour" excursion; after a year and a half long quarantine, Styles encouraged fans to set free their previous mindsets in order to let loose after the long awaited set back. Styles released his second studio album "Fine Line" back in December 13, 2019, however, due to the global pandemic it was pushed back into this year where proof of vaccination cards and masks were required for entry. The tour started on September 4, 2021 in Las Vegas, Nevada and ended with the last show in Long Island, New York on November 28, 2021. Styles completed a U.S. leg tour with a total of 40 shows. Each night, fans were presented with new outfits styled and designed by Harry Lambert in which he fitted the star in all custom Gucci attire ranging from suits to suspenders.
Styles, 27, is most notably known as a previous member in the globally successful pop band One Direction that rose to stardom in 2010; the band consisted of 4 members that included Zayn Malik, Niall Horan, Liam Payne, and Louis Tomlinson. The band, also referred to as "1D", sold over 70 million records worldwide in their 5 year time span as a band until they decided to take on hiatus in 2015. Now, Styles has made his way from boy band icon to striving actor as he made break out appearances in Marvel's Eternals as Eros, brother of Thanos, Christopher Nolan's  Dunkirk as Alex, and is preparing to have lead roles in the upcoming movies My Policeman, a Bethan Roberts book adaption, as Tom Burgess and as Jack in Don't Worry Darling which is directed by actor and girlfriend Olivia Wilde.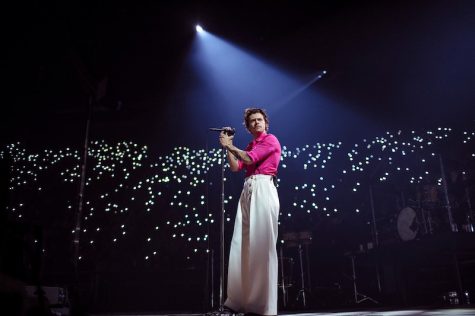 As of this year, the album is nominated for a Grammy under "Best Immersive Audio Album", making Styles a 4-time nominee and Grammy winner. The set list for the tour consisted of the full track list and note-worthy appearances of songs such as Kiwi, Medicine, Sign of the Times, Women, Carolina, and Only Angel which were previously on his first debut album "Harry Styles". His band consisted of long time members Sarah Jones (drums), Mitch Rowland (guitar), Pauli Lovejoy (percussion), Ny-Oh (piano and vocals), Elin Sandberg (bass), and Niji Adeleye (piano) which fans have held near and dear to their hearts; Styles as well chose Jenny Lewis as a special guest to open up his tour. 
The Forum itself was decorated with various lights and wall prints which showcased lyrics from the album on pillars for fans to take pictures with. Designated merchandise stands were in every exit and entrance in order for fans to purchase what they preferred before or after the show. A new addition to Styles's recent endeavors came in the form of a van which was specifically catered to selling and presenting his new beauty line Pleasing; the van was located at the front of the arena for fans to splurge.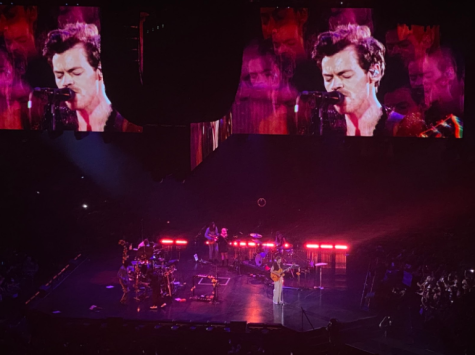 As quoted from Styles himself, buying tickets for the tour gives you "2 hours of love" from him and the band in order to make the night memorable. Luckily, I myself was able to purchase tickets to his Los Angeles night three show at the Forum and can definitely say that the night was not one to forget. Styles makes sure he provides quality entertainment while still providing instances in the show where he talks to the audience; showing off his very charismatic and comedic personality. He ensures a welcoming speech and grateful goodbye to fans for creating such a welcoming atmosphere for himself and everyone to enjoy. 
While fans excitedly show off their photos from the concert all over social media platforms, Styles assured them that although Love On Tour has come to an end his touring days have not as he is excited to be releasing new music and be touring around the world once again in the near future.