Fatty Vegan: How Do You Open a Restaurant in the Age of Covid-19?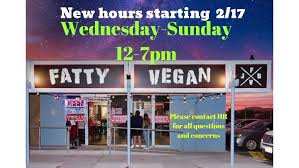 Where/How to Find Them: 
How Do You Open a Restaurant in the Age of Covid-19? The answer is–carefully and thoughtfully. Candice Shimer, one of three owners of the new "junk-food" vegan restaurant, had a dream of opening her own restaurant in Ventura County. On January 20, 2021, her dream became a reality. 
"We knew we had something cool," said owner Candice, but they were a little "overwhelmed" at first. Who knew that a "junk-food" vegan restaurant would be so popular in Ventura? Well, Candice did. She "really thought about it and took [her] time." Just a few doors down in the same shopping center, Candice has worked (and still continues to work) at New Birds Salon for the past 15 years. Seeing a restaurant spot open and available near her, she decided to pounce, and in fact, opening amongst a pandemic actually helped. They didn't have to have everything ready and perfect to go on day 1 since indoor/outdoor dining wasn't even available for restaurants in the area yet. This allowed room for growth and change. She's had to hire a lot of extra staff to meet the new demands.
So, what do they serve? Why "junk-food" veganism? "We serve nachos, pizza, a Reuben, Philly Cheesesteaks, milkshakes–just traditional comfort-y junk food," said Candice. She also mentioned that vegan food serves more than just the animal-loving crowd. Just because vegans "don't eat animals" and it is often seen as a healthy alternative lifestyle, Candice says that vegans love junk-food too. Plus, there are other reasons to join the vegan crowd. She mentioned that there are many reasons to eat vegan, even if it's not all the time. For instance, maybe someone is lactose-intolerant. Where else are you going to find a killer dairy-free shake? Maybe you are looking to lower your cholesterol or you have other health issues or allergies? All signs could point to adopting a vegan/vegetarian lifestyle or at least swapping it out when you're feeling like eating bad anyhow.
One thing is for certain though: Candice and her restaurant are here to stay! Go see her and her crew at Fatty Vegan in Ventura. Location information up top.
The Writer's Menu Pick: Ruben So Ho ($11.00): "pastrami " topped with sauerkraut and Russian sauce and Miyoko's pepper jack seven rye bread. Make elote your side!! Mmmm.
Candice's Menu Pick: Weekend Nachos ($13.50): corn tortilla chips topped with your choice of meat, black beans, crema, pico de gallo, Not-yo Cheeze sauce, guacamole, roasted salsa, and roasted jalapeños.
The Most Popular Item: Manic Hispanic Combo ($11.50): three street tacos of your choice served with a side of elote and tortilla chips.