Easy to Make Guava Cake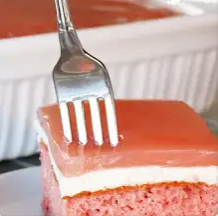 As a child, I always enjoyed helping my aunt bake her famous guava cake. Now that I'm older, I realize how simple it is to make this delightful dessert. You won't believe a cake this good can be made with such ease. Now hurry to the store, run to your kitchen, and give this recipe a try. Treat your taste buds to my easy-to-make guava cake.
Ingredients
Cake:
1 package yellow cake mix or strawberry cake mix

1⅓ cup guava juice
⅓ cup of vegetable oil
3 eggs
Cream Cheese Whip
1 8 oz package softened cream cheese

1 8 oz thawed Cool Whip
1 teaspoon vanilla extract
⅓ cup of sugar
Guava Gel
2 cups guava juice

¼ cup cornstarch
½ cup sugar
Directions
Cake
Bake your cake according to the package directions, substituting the guava juice for water.
Cream Cheese Whip
In a medium mixing bowl, beat cream cheese with hand mixer until fluffy.

Slowly beat in sugar and vanilla.

Slowly fold in Cool Whip.

Refrigerate until ready to use.
Guava Gel
In a medium saucepan, bring the 2 cups of guava juice and sugar to a boil.

Add a small amount of water to cornstarch to make a paste.

Remove guava juice from heat and mix into cornstarch mixture.

Return to heat and let boil for one minute.

Transfer to bowl and let cool in the refrigerator. 
Assembly
Thickly ice your cake with the cream cheese whip. Glaze the top of the cake with guava gel. Refrigerate until ready to serve.