Sugaring at Home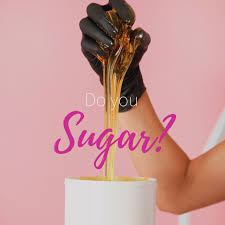 Sugaring is a hair removal technique that uses an all-natural paste to pull off body hair. There are no strips necessary or involved, making it a natural alternative as well as a money-saving alternative to traditional wax.
INGREDIENTS:
1 cup sugar

1/3 cup water

1/2 cup fresh lemon juice

Mixing pot
First, you're going to want to start by making your wax mixture. You will place all your ingredients into your pot and bring it to a boil at high heat. Make sure to keep stirring. Once the mixture starts bubbling, bring the heat down to medium. Once the mixture turns golden brown, you will remove it from the heat. Lastly, you will transfer it to a bowl and let it cool until it is warm and easy to manipulate.
While cooling, you want to make sure to prep your skin with a cleansing system. Also, make sure to apply baby powder to the skin surface otherwise the wax will not stick because of the moisture/oils coming off your skin. 
HOW TO APPLY/USE:
Make sugar mixture into a ball Hold the wax with the tips of your fingers and thumb.

Spread the wax in the direction the hairs are growing.

Tighten skin with the other hand and pull off the wax in a fast movement in the opposite direction.

Never pull in an upward motion.
Sugaring is all-natural and environmentally friendly. It will save you loads of money by using three simple ingredients that most people have lying around the house. Do it at home, rather than going to get waxed for 33$-55$ every two weeks! Especially in this time of need with COVID 19, many people are struggling financially right now due to Covid. They may not have the privilege to treat themselves. This is a very simple way that can make people feel good while staying safe and healthy.
featured image: google
picture credit: google