The Last Dance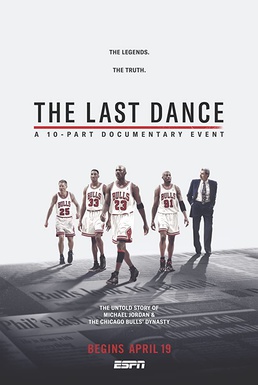 Times like this has been extremely rough when with everything being shut down including the NBA season. Since they they have been showing the classic NBA games that were memorable. Last month ESPN has been making a mini series called. "the Last Dance".
This 10-episode series was basically the story of Michael Jordan's legacy. From his college days in North Caroline, to  being the 3rd overall pick in the 1984 NBA draft. By his 3rd season he was known as a young rising superstar on the Chicago Bulls. In 1991, he and Scottie Pippen started their first three peat (1991,1992,1993). Shortly after Jordan started his retirement he went to become a professional baseball player.
In 1995, Jordan quit baseball and came back to being an NBA player again with just two words "'I'm back'. He then later starred the iconic basketball movie "Space Jam". After they got Dennis Rodman and Steve Kerr they started their second three peat (1996,1997,1998). Playing the Utah Jazz back to back and Jordan cleared up the whole "flu game", where he stated he has food poisoning not the flu. After that all their star players got traded and Jordan announced his second retirement.
This series was a complete 10/10 knowing that Jordan went through a lot to get to where he was at. Who would of thought a kid who didn't make the varsity basketball team would be the greatest basketball player ever. I would definitely recommend this series to any basketball fan.
Featured Image: google