Words For Officer Martin Our School Resource Officer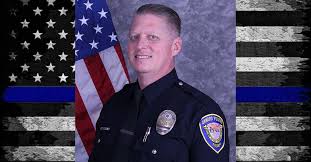 "I didn't know Officer Martin well, but when I got the email of his passing my heart sank. I knew that my feeling of security at school would be gone. Seeing him occasionally around campus would no longer happen. He always had a smile on his face and seemed like an amazing guy to know. I wish I could have met him personally before his passing." -Zack R.
"Officer Martin was fond of our NJROTC cadets and loved seeing them in uniforms on Fridays. He told me he has family in the military and to see the youth interested in it made him happy. He liked that we tried our best to help out our school and had a good image to spread." -Hueneme Staff
"Officer Martin was very professional and loved helping students. He was always more of a help than a glooming authority but did a great job of keeping peace and order. He was respected by students and a mentor to NJROTC cadets and students who wanted to go into law enforcement." -Hueneme Staff
"Officer Martin was always asking me how my day was and we would talk for a bit every week. He made sure that I felt safe. He made me laugh and had the best humor around. He was one of the best people I've ever met. He really cared for me and my friends. I know he's riding up in Valhalla."  -Fellow Students
"Officer Martin was a big help in my school life, he always helped me out when I needed it. He gave me advice on things like grades and how to better myself. I will miss him dearly and I hope he is resting easy in Valhalla. I send my best regards to his family. I'm gonna miss seeing him on campus." -Fellow Students
"This one time when I was stopping by Officer Martin's office to say hi, he was laughing with some other kids and smiling like he always was. It always puts a smile on my face to talk to him and ask about his day. Officer Martin was one of my favorite police officers around and I hope he is at peace." -Fellow Students
About the Writer
Zack Rogers, Contributor
My name is Zack I'm a junior in high school.
I will be writing about new and current technology because it interests me
I like food, technology, science,...