Crater Lake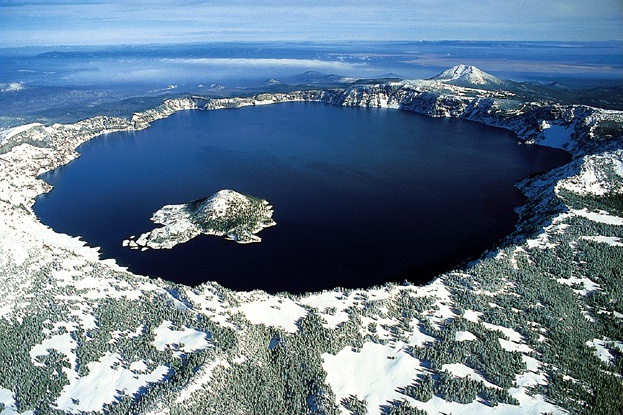 Crater Lake is located in Lake, Oregon, United States. This lake is within a  huge volcanic caldera in the Cascade Range. Crater Lake is known for its deep blue color and water clarity, it is also a perfect place to go camping. Crater Lake is in the Crater Lake National Park and has more than 90 miles (145km) of hiking trail.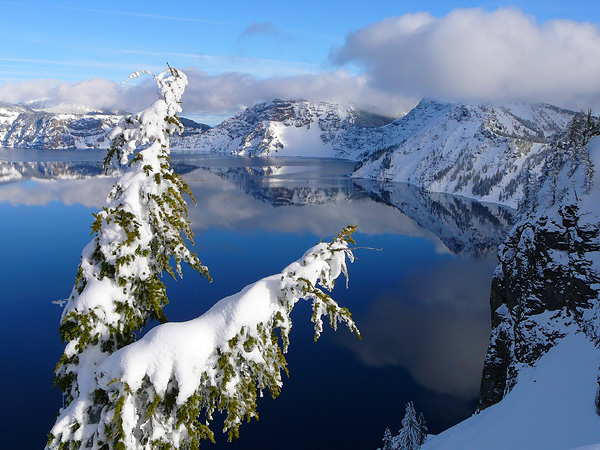 The lake has an average depth of 1,148 ft (350 m), and a maximum depth of 1,949 ft (594 m). The lake also has a surface elevation of 6,178 ft (1,883 m), and a volume of 4.49 cu mi (18.7 km3). There are no rivers flowing in or out of the lake; the evaporation is compensated by rain and snows at a rate such that the total amount of water is replaced every 250 years.
The climate in Crater Lake consists of a subalpine climate, with the rare dry-summers type (Köppen classification Dsc) owing to its high elevation. In the summer, the weather is mild and dry, but in the winter is cold and the powerful influence of the Aleutian Low allows for enormous snowfalls averaging 505 inches (12.83 m) per year and maximum snow cover averaging 139 inches (3.53 m).
Sources: Google, britannica.com, and nps.gov