Could Floating Nuclear Power Be The Future?
             Russian nuclear enterprise Rosatom introduced the advent of the arena's first floating nuclear energy plant, Akademik Lomonosov, in September of 2019.
The 144m by 30m- Ship has stopped at the port, where it will stay in its first couple of years.
The power plant will use small modular reactor technology.
It has been designed to get to hard-to-reach areas where it is able to perform for three to five years without the need for refueling.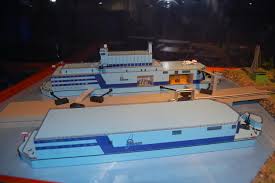 It additionally has a widespread life cycle of 40 years.
The electricity plant serves as a big leap in technology for a fleet of floating nuclear plants in the near future.
             Jan Haverkamp, Greenpeace Netherlands senior professional nuclear power and power policy, says "the fundamental disadvantages of Akademin Lomonosov to
be the large human factors risk, its complex creation, and the pollution of the Arctic location with nuclear waste.
Along with that, if something goes incorrect, it's very tough to get there and fix any problems, way more difficult than it was
in Fukushima to keep the ship light enough to float".
             He also points out that it poses a protection hazard because with a purpose
to be light sufficient so it remains floating, a number of the protection functions usually present on a land-based reactor will have to be removed.
About the Writer
Zack Rogers, Contributor
My name is Zack I'm a junior in high school.
I will be writing about new and current technology because it interests me
I like food, technology, science,...