Why to visit Puerto Rico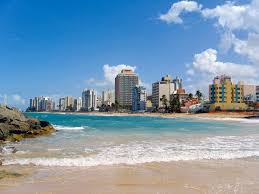 1. It's easy to travel 
To travel to Puerto Rico you don't need a passport because its a territory in the United States.
2. Stunning Beaches 
It has 270 miles of beaches to explore. Flamenco Beach on the island of Culebra is often cited as one of the best beaches in the world. There are beaches for surfing and kids to be able to play.
3. The Opportunity to visit the Rainforest
El Yunque is unique in which its the only tropical rain forest in the U.S National Forest. It's home to different types of plants and animals that exist nowhere else on Earth. You can take a hike on a  trail through the rainforest to see La Mina waterfalls.
4. Famous Puerto Rico Rum 
Bacardi rum is one of the famous rums from Puerto Rico. 70% of the rum sold in the United States comes from Puerto Rico.
5. Weather 
Puerto Rico's weather makes it the ideal location for a beach location at any time of the year. Residents and visitors enjoy the warm temperatures all year long. It never gets cold enough to snow in Puerto Rico.
6. San Juan's Historical Forts
There are two Spanish forts from the 16th and 17th centuries in modern days San Juan: Castillo San Felipe del Morro and Castillo San Cristobal. These massive fortresses attest to the dominance the Spaniards once held in the Caribbean. Exploring these forts is an interesting introduction to Puerto Rican History.
Source; Google 
Featured Image: Google 
Picture Credit: Google