Murals In Los Angeles
Los Angeles is a place with a lot of space and with big blank walls. It also means there's plenty of space for the artiste to go crazy and for them to experiment. 
Some of the most colorful and beautifully surreals mural in Los Angeles.
The Cosmic Love
The artiste that did The Cosmic Love is Dabs and Myla. Its a range of bizarre, cartoonish characters in a fantasy scenario. Its located in Hollywood/Wilton.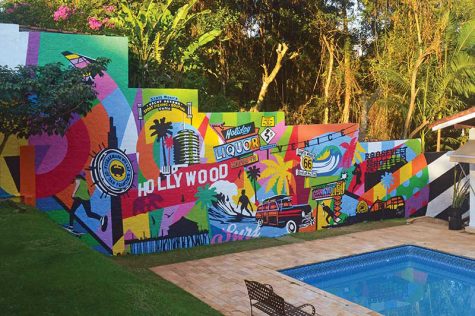 Boomtown Brewery
This mural is located at 700 Jackson in Los Angeles. The artist of the boomtown brewery Fuzi. The meaning of the mural is hundreds of louche characters drinking, sweating, smoking, and crying for uncomfortable crush. 
Packard Lofts
The artist for the pack lofts is Remed and is located at 1000 Hope in Los Angeles. The mural is people who have influence from artists, the local history of the area, and interlocking patterns.
Express Label
The artist of the express label is Aaron kai. The mural resembles a strange underwater garden. Once you looked at it once, what will surprise you is that Kai draws on his Hawaiian upbringing and Japanese pop culture for inspiration.
Source:https://www.eventbrite.com/rally/los-angeles/11-beautifully-surreal-murals-public-artwork-los-angeles/
Pictured Credit: https://commons.wikimedia.org/wiki/File:Artista-Lobo-Mural.jpg
Featured Image: https://www.publicdomainpictures.net/se/view-image.php?image=282947&picture=los-angeles-vaggmalning-affisch