Facts about Giraffes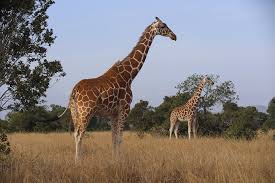 Giraffes can be found in the dry area of the savanna in Africa
Giraffes are the tallest mammals on Earth.
A giraffes height can help them keep a lookout for predators like lions and hyenas.
Are herbivores, only consume plants. Their favorite thing to eat is the acacia tree.
They can eat up to 45kg of twigs and leaves a day
Giraffes only need to drink water once a few days
Female giraffes give birth standing up and within an hour they are ready to run with their mother
They can live up to 25 to 40 years max.
Source: Google
Featured Image: Google
Picture credit: Google