Golden Gate Bridge
In 1933, The Golden Gate Bridge started. The bridge was designed by engineer Joseph Strauss. The bridge was built to connect San Francisco with Marin County across it is 2737 meters long and 227 meters high. The Golden Gate which links the San Francisco Bay with the Pacific Ocean.
Building the bridge, The construction of what was to become the world's largest suspension bridge was a colossal task. At the time many people did not believe it was technically possible to span the Golden Gate. 
But despite the disbelief, opposition, and the Great Depression, Joseph Strauss was able to find sufficient support and financial backing to go ahead with the project.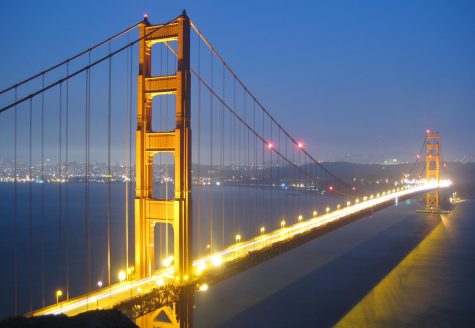 It would take thousands of workers, four years and 35 million dollars to complete the structure. On May 27, 1937, the Golden Gate Bridge was inaugurated by 18,000 people who walked across the bridge. The next day the bridge officially opened to motorized traffic. Today more than 120,000 cars cross the bridge each day.
After its completion, the Golden Gate Bridge already enjoyed worldwide fame, not only because the bridge was breaking records, but also thanks to the elegant Art Deco design of the two huge towers and the magnificent surroundings near the Pacific Ocean. The eye-catching orange-red color of the bridge also helped its popularity.
 The color was suggested by engineer Irving Morrow, who thought the traditional gray color was too boring. The Golden Gate Bridge has now long lost its record of the longest bridge, but it is still one of the world's most famous structures.
Source:http://www.bridgesdb.com/bridge-list/golden-gate-bridge/
Picture Credit: https://commons.wikimedia.org/wiki/File:Golden_Gate_Bridge_bei_Nacht.JPG
Featured Image:https://www.pexels.com/photo/architecture-bay-beautiful-bridge-372462/