Wisconsin Officer Shot Student who stabbed him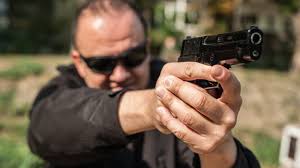 A 16-year-old student stabbed at school resource officer who then shot the teenager at Wisconsin high school Tuesday morning, police said, in the second shooting at a school in the state in as many days. The school resource officer alerted other Oshkosh police officers about an altercation with the student at 9:12 a.m, Chief  Dean Smith said. The officer said the student brandished an "edged weapon" and stabbed the officer in his office, Smith said. Smith wouldn't say whether the weapon was a knife. The officer opened fire and struck the student once. Other officers arrived and began life-saving treatment on the officer and student. Some students were evacuated from the school while others sheltered in place. "I was walking in the hall, and a teacher shoved me into a classroom, and we started barricading the doors, and we all huddled in the corner, and there were gunshots," he said.
The Reverand John Seelman, the pastor of Immanuel Lutheran Church across the street from the school, says he saw one person being transported from the school in a wheelchair who was taken away in an ambulance, and another who was carried out on a stretcher. Stephanie Carlin, who is the mother of a sophomore and a senior at Oshkosh West and a school board member, told The Associated Press that one of her sons texted her to say, "it was crazy," but that both of her sons were safe.
Source: Google
Image Credit: Google
Featured Image: Google