Selena Quintanilla
Selena Quintanilla Perez was born on April 16, 1971, in Lake Jackson, TX. She was killed on March 31, 1995, in Corpus Christi, Texas. She was an American singer-songwriter. She was known as the Queen of Tejano Music. Also known as the Mexican Madonna because of her beautiful outfits and dance moves. She designed all of her stage outfit including her group members. 
Selena began singing since she was a child. Selena grew up speaking English but she had a hard time speaking Spanish. So her dad Abraham taught her to sing Spanish so they could resonate with the Latin Community,  But later in her life, she learned to speak Spanish.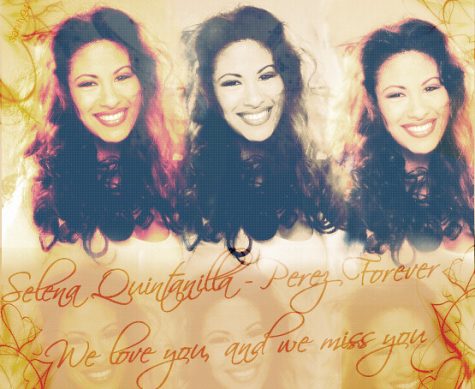 Selena's father Abraham Quintanilla managed and produced his family's group, Selena Y Los Dinos. Selena was the lead singer, her brother Abraham was the bass guitar and her sister Suzette was on the drums. Selena's album "Ven Conmigo" was the first Tejano record to achieve a gold record status. What the gold record means it has been sold more than 500,000 copies.
Yolanda Saldivar was the founder of the Selena fan club. Selena considered her like a best friend. But one day the two were meeting at a hotel to discuss Selena's concerns because Yolanda was embezzling money. When Yolanda shot Selena she claimed that it was an accident. But she was sentenced to life in prison in October 1995. 
Source: https://www.biography.com/musician/selena
Picture Credit:https://www.flickr.com/photos/sanity94/8072711601
Featured image: https://commons.wikimedia.org/wiki/File:Selena_Signature.png