Seahawks vs Falcons
On Sunday, October 27,  2019, the Seattle Seahawks took on the Atlanta Falcons in the Mercedez Benz Stadium for their week 8 game. Seattle won the toss and received the ball first, which resulted in K.Redfern kicking the ball 65 yards from ATL 35 to end zone making it a Touchback. On the opening drive, Seattle's QB, Russell Wilson threw a pass deep down the middle to Wide Receiver, M. Turner for a gain of 21 yards at the Seattle 46. Seattle's kicker, J. Myres, Attempted a successful 42-yard field goal for a score of 3-0 in the first quarter at minute 11:21. At minute 6:08, Seattle got a penalty on J.Hunt for an offensive holding so a loss of 10 yards was added to the play.
At the start of the second quarter, Atlanta's Kicker, M. Bryant missed a 51-yard field goal. At minute 11:51, Russell Wilson threw a pass short down the middle to rookie wide receiver D.K Metcalf for a 4-yard touchdown. J. Myres kicked the extra point good, Leaving the score 10-0. Minute 9:42  M. Schaub Threw a deep right pass to Julio jones resulting in an offensive pass interference causing a 10-yard penalty. The play after, M. Schaub intended a pass down the middle to j. jones intercepted by M. Kendricks at the Atlanta 46. Minute 4:51, Seattle's running back Chris Carson, scored a 1-yard touchdown with J. Myres extra point being good, leaving the score 17-0. With 33 seconds on the clock for the second quarter, Seattle's Rusell Wilson threw a Short right pass to wide receiver, D.K Metcalf for a 4-yard touchdown making the score 24-0 with an extra point.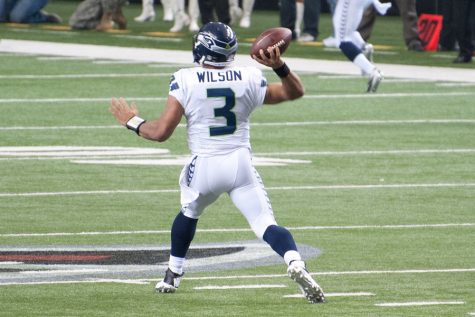 The Atlanta Falcons scored the first touchdown of the game at minute 11:02. They also attempted a successful two-point conversion, trailing the seahawks 24-8. during a play in minute 7:55 Seattle player J. Reed was injured and the Atlanta received a penalty of 10 yards. M. Bryant scored a successful 47-yard field goal making the score 24-11.
Seattle scored a field goal to up the score 27-11. Atlanta Flacons later score a touchdown to make the score 27-17. At minute 2:47 M.Schaub pass short right to J.Jones pushed ob at ATL 25 for 11 yards. M.Schaub spiked the ball to stop the clock. M.Bryant 37 yard field goal is good. Russell Wilson kneels at the Atlanta 45 to end the game and go home victories. The Seattle Seahawks are now 6-2 moving on to take on the Tampa bay buccaneers for week 9.
Source: Nfl.com
Picture Credit: google
Featured Image: google