Interview: Brenda Victorio
Brenda is getting interviewed  for her first cheerleading experience at Hueneme High School!
What made you want to join cheer? why?
*She wanted to have something to do with school, become busy, and get out of her comfort zone because she thought she wouldn't be involved in anything all her 4 years of high school. She enjoys it and is proud she joined.
why did you join cheer your junior year?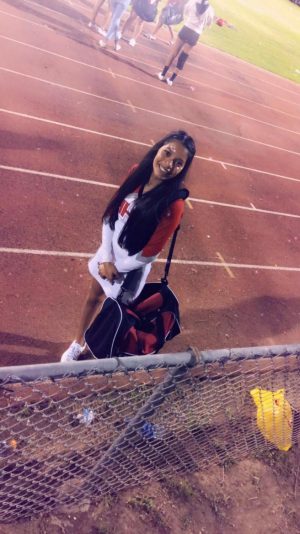 * She joined her junior year because she heard there was a lot of drama in the previous year and didn't want to get involved with it. Brenda was debating because she was scared and nervous.
what's your favorite thing about cheer? 
*Brenda's favorite thing about cheer is being able to meet new people. She enjoys talking to the girls and likes the bond that she has with the whole squad.
how many times do you guys practice?
*Brenda practices 4 days a week: Monday to Thursday and Fridays the games.
do you have fun at your games? why?
*Brenda loves games days because she enjoys cheering for her team and eating with her teammates.
what sports do you guys cheer for?
*Brenda cheers for football and boys basketball.
are you joining cheer next year? why or why not?
*Brenda is joining cheer next year because it's her last year and wants to spend it in cheer well with her coach.
hows your bond with your cheer coach?
*Brenda's bond with her coach is the best, her coach helps her a lot and always tells Brenda what's better for her.
hows your bond with the other cheerleaders?
*Her bond with the other cheerleaders is good, they collaborate a lot and always help each other out.
do you reget joining cheer? why or why not?
*Brenda doesn't regret joining cheer, what she regrets is not joining her freshman and sophomore year because she figured that cheer is something she really enjoys doing.