Benefits of Pineapple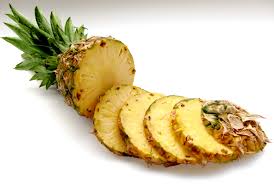 Pineapples are tropical fruits that are rich in vitamins, enzymes, and antioxidants. They may help boost the immune system, build strong bones and aid indigestion. And, despite their sweetness, pineapples are low in calories
 Contains Disease-Fighting Antioxidants
Antioxidants are molecules that help your body combat oxidative stress.
Oxidative stress is a state in which there are too many free radicals in the body. These free radicals interact with the body's cells and cause damage that is linked to chronic inflammation, a weakened immune system, and many harmful diseases
Its Enzymes Can Ease Digestion
Pineapples contain a group of digestive enzymes known as bromelain. They function as proteases, which break down protein molecules into their building blocks, such as amino acids and small peptides. Once protein molecules are broken down, they are more easily absorbed across the small intestine. This can be especially helpful for people with pancreatic insufficiency, a condition in which the pancreas cannot make enough digestive enzymes
May Help Reduce The Risk of Cancer 
Pineapple contains compounds that reduce oxidative stress and inflammation, both of which are linked to cancer. One of these compounds is the enzyme bromelain, which may stimulate cell death in certain cancer cells and aid white blood cell function.
May Boost Immunity and Suppress Inflammation 
Pineapples have anti-inflammatory properties that may boost the immune system. Children who ate pineapples had a significantly lower risk of both viral and bacterial infections. Also, children who ate the most pineapple had close to four times more disease-fighting white blood cells (granulocytes) than the other two groups
May Ease Symptoms Of Arthritis 
The anti-inflammatory properties of pineapple may provide short-term symptom relief for people with common types of arthritis. One study in patients with osteoarthritis found that taking a digestive enzyme supplement containing bromelain helped relieve pain as effectively as common arthritis medicines like diclofenac
May Speed Recovery After Surgery or Strenuous Exercise 
The bromelain in pineapples may reduce the inflammation, swelling, bruising and pain that occurs after surgery. Bromelain's anti-inflammatory properties may also aid recovery after strenuous exercise by reducing tissue inflammation.
Delicious and Easy to Add to the Diet  
Pineapples are delicious, accessible and easy to add to the diet. Their nutrients and compounds have been linked to impressive health benefits, including improved digestion, a lower risk of cancer, improved immunity, relief of arthritis symptoms and improved recovery after surgery and strenuous exercise.
Source: Google 
Picture Credit: Google
Featured Image: Google