Hueneme vs Carpenteria recap
Hang on for a minute...we're trying to find some more stories you might like.
The Hueneme Vikings played against the Carpenteria Warriors in Hueneme's first league game with Hueneme winning 32 -14. The game started at 7:00 pm with a fresh breeze flowing throughout the whole field. Both teams went onto the field fired up to play. The Hueneme defense stopped the Carpenteria offense and forced them to punt the ball.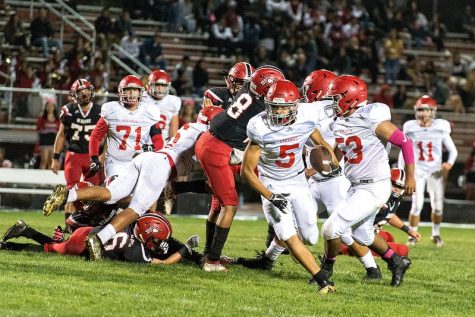 Hueneme fumbled the ball and the Carpenteria warriors recovered it for a touchdown at the 1 Yd line. The score was 0-7 in the first quarter. that was the only score in the 1 st quarter due two both defenses stopping the offenses. In the 2nd quarter, Hueneme scored on a 40 yd pass to tie the game with 10 minutes left in the 2nd. Just as it was in the first, both defenses stopped the offenses, until Carpenteria scored with 5 minutes left. The score was now 7-14. The 3rd quarter started and Carpenteria kicked the ball off to Hueneme. On the next play, Hueneme scored with an 85-yard pass to bump the scored up 14-14. Both teams were hungry for the win but Hueneme wanted it more, towards the end of the 3rd quarter, the Vikings scored on a 55-yard run play. Then, Hueneme scored 2 more times in the 4th quarter with 2 more run plays finishing the game 32-14. The Vikings play the Fillmore Flashes next week and the Warriors play against the Santa Paula Cardinals.
Information: Maxpreps
Pc: Flickr
featured image: Flickr