Trio Graduation Ceremony at Cal Lutheran University
On Sunday, May 19th of 2019, Cal Lutheran University hosted a ceremony for the class of 2019. About 50 of the trio student were able to make it to the event. Half were Talent search and the other half were Upward bound students.
We had a  lovely ceremony and 4 students presented a speech. It was a joyful day because one of the students from CIHS named Caesar got a scholarship of $25,000. Every student announced by name and where they are attending this Fall of 2019. The audience were proud parents of the Trio students. The students were given black sashes (as shown above) and a rose. The story behind the rose is that one of the staff members got a rose from their daughter when she graduated from kinder. His daughter doesn't know this but he kept that rose through out these years.I think that is a beautiful story.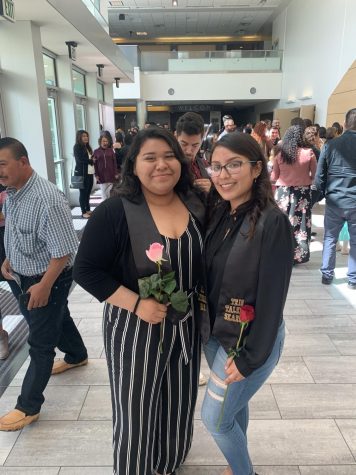 A picture of two Hueneme students , Stacy Ceja (on left) and Melissa Lopez (on right), who received a sash from Cal Lutheran University. I also got a sash and rose but sadly I didn't charge my phone to take pictures. It was a great experience, one sash down, two more to go!
Featured Image: Stacy Ceja