Spotify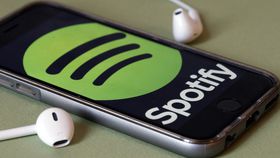 Hang on for a minute...we're trying to find some more stories you might like.
Spotify had been in development since 2006, by a company in Sweden called Spotify AB. It was founded by Daniel Ek, who was formerly the CTO of Stardoll, and Martin Lorentzon, co-founder of TradeDoubler.Spotify is a digital music, podcast, and video streaming service that gives you access to millions of songs and other content from artists all over the world. Basic functions such as playing music are totally free, but you can also choose to upgrade to Spotify Premium.
Spotify has been losing money badly for years. The company said revenues amounted to $5 billion in 2017, up from $3.6 billion in 2016. Losses, however, topped $1.5 billion for 2017, from $662 million the prior year.
image courtesy of google
info courtesy of google