Nike Mag Back To The Future
Gustavo Angel Herrera, Contributor
April 4, 2019
Hang on for a minute...we're trying to find some more stories you might like.
The "Nike Mag Back To The Future" a pair of shoes that first made an appearance on "Back To The Future 2" is a sneaker that everyone questioned when first seen on film. The sneakers were originally designed back in 1989 by Nike's designer Tinker Hatfield.  The shoe its self is pretty different as it features light up panels and self-fastening shoe laces which tightens to comfort of choice. The shoe was just featured on the film but later released for purchase to the public in 2011 & 2016.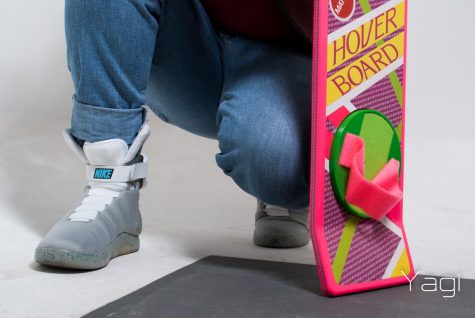 These kicks were extremely difficult to get a hold on as of October 4th, 2016 Nike gave customers the opportunity to purchase a $10 ticket to win a pair of sneakers. Only 89 pairs were available and all proceeds were donated to the Parkinson's research and raised about $6.75 million for the Michael J. Fox Foundation.
Source- Sneaker News
Photo- Google
Cover Photo- Google\