Kawasaki Ninja Zx6r
Hang on for a minute...we're trying to find some more stories you might like.
Kawasaki introduced the zx6r in 1995 with very similar looks and features like the 1994 introduced zx6r, including the ram air intake that had been developed by Kawasaki since the 1990. The first zx6r had a dry weight of 401.2 lb (182.0 kg), wet weight of 454 lb (206 kg) and was capable of accelerating 0 to 60 mph in 3.6 seconds.
In 2005 Kawasaki revamped the zx6r engine speed increased by 1,000 RPM resulting in 113 hp at 12,250 RPM. It's powered by Green Team's stroked 636cc inline four engine.The engine remains unchanged, but power delivery should be stronger due to a new smaller counter shaft sprocket. This contact-less potentiometer-type quick shifter was designed for seamless up shifts. It arrives with Battlax Hypersport S22 tires for lighter handling and increased grip.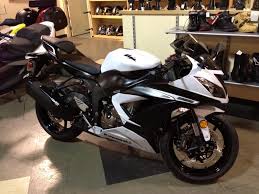 Photo provided by google
Featured image provided by google

Kevin Bazaldua, Contributor
Hello there, my name is Kevin Bazaldua. I am currently a Senior attending Hueneme High School. I am 18 years old. I am athletic and very energetic. I was...