Fruity Pebbles
Hang on for a minute...we're trying to find some more stories you might like.
Fruity pebbles are brands of breakfast invented by Post Holdings Co on November 13, 1969. It was introduced by Post foods in 1971. The brand fruity pebbles features characters from the animated series The Flinstones as spokestoons. Fruity pebbles is the oldest surviving cereal brand based on anything that comes on in television such as any type of serie or movie.
Several people think that Fruity Pebbles are all different flavors but they are actually all the same flavor which is called " Froot " which stems from a blend of fruit flavors. The brand Fruity Pebbles does not contain any corn or dairy products, it contains crispy rice cereal bits that come in a variety of fruit flavors with a sugar content of 9 grams per serving. The idea of fruity pebbles was thought about when eating slushy old cheerios.
There isn't only fruity pebbles but there is also marshmallow fruity pebbles, peanut butter and cocoa pebbles, cinnamon pebbles, cocoa pebbles, cocoa pebble treats and fruity pebble treats. Fruity pebbles were reintroductions of a low share of market post childrens cereal brand called sugar rice krinkles. The only changes of this product are adding color and changing the box.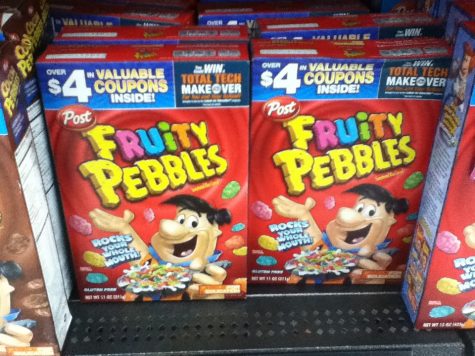 Feature Image:  Google
Picture Creditt: Google
Source: Google