Jackie Robinson Contract Up for Auction?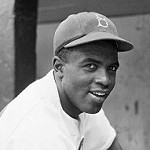 Hang on for a minute...we're trying to find some more stories you might like.
As of November 2017 Jackie Roosevelt Robinson the first African American player to play for the Major League Baseball contracts was put up for auction at $15 million dollars but did not get the reserve from buyer. The Contract for the Brooklyn player is now up for auction again as baseball antique collectors have the chance to own this peace of history. The contract was scheduled to be auctioned Monday of January 22nd of 2019 with a  fee of 36 million dollars being such  rare documents. Ten percent of the final sales price  will  be donated to the Jackie Robinson Foundation. What makes this contract so rare ? This contract was Robinsons first ever Major League Baseball contract making him the first African American to play for the MLB and  for the Brooklyn Dodgers starting first base. Robinson had broke color barrier for the MLB in the worlds history. The contract was originally signed on April 11th, of 1974 with the Brooklyn Dodgers and October 23, 1945 with the Montreal Royals. The documents have been appraised so they are the real deal. The chance to own such an intresting peace of history is now but only some lucky person will have  the chance to physically own it.
Picture: Flickr
Source: SportsCollectors

Gustavo Angel Herrera, Contributor
Hey! My name is Gustavo Angel Herrera. I am a senior at Hueneme high school. I am 18. Some hobbies I like to do are listen to music, go to the beach, and...