Starbucks Delivering ?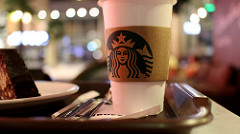 Hang on for a minute...we're trying to find some more stories you might like.
Starbucks is offering new ideas to its company to keep business steady as they now offer an option of delivery. Starbucks has been having a couple issue as publicity to its company is going down but that won't stop them. The coffee company is now offering delivery in 7 major U.S cities through a partnership with Uber eats. The delivery service started today Tuesday  (1/22/19) in San Francisco and will expand to big known cities like Los Angeles,New York, Washington , and a few more. Most of the menus items are still available for delivery. Delivery takes 30 minutes or more depending your location and has a small fee of $2.49. Delivery allows customers to purchase items without having to step in and physically purchase your drink. Delivery can help in many ways like when running late to work and with a simple click can get you your drink to work without going in and waiting in line.
Photo: Flickr
Source: LATIMES