Ice Skating for the First Time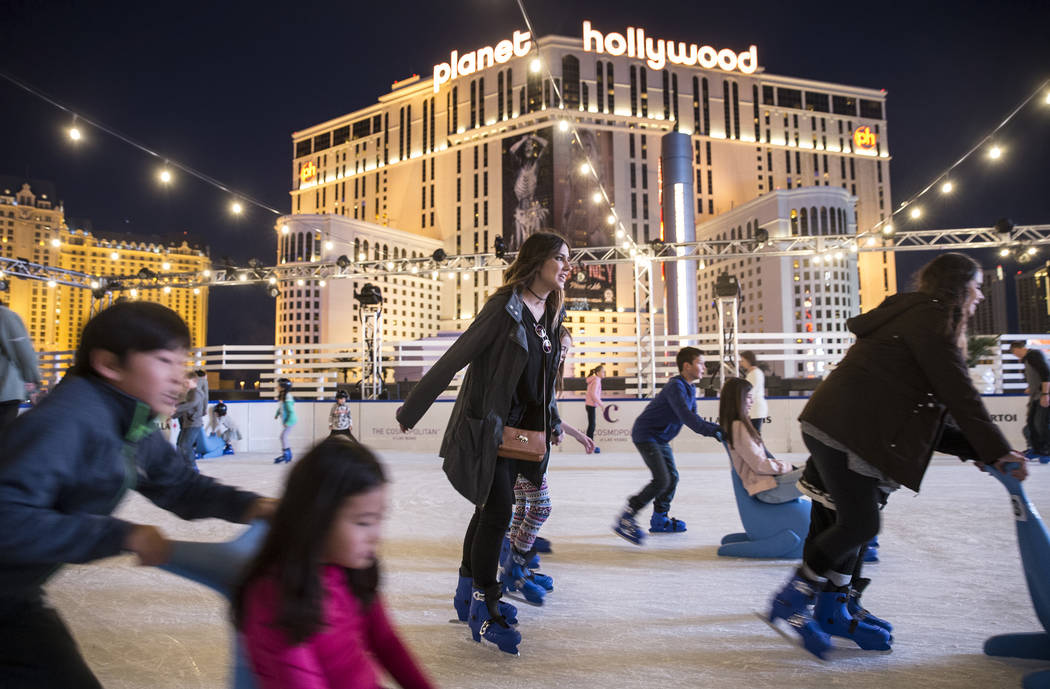 During winter break my family and I decided to go to Las Vegas, we always enjoy going during winter break the most because of all the Christmas decorations and festive shows to watch. My cousin had been suggesting for the longest that the next time we went back we should go ice skating. The Ice Rink is located on the third level of The Cosmopolitan. They transform their Boulevard Pool into the icy rink for everyone to skate on and have fun.  It is only available for the holiday season from the ends of November to the first week of January.
When we got to the rink there was a long line already as expected because it was the day before Christmas, after we got our skates and our aids to help us move around a little easier.
The skates were very hard and heavy I thought it was because we were walking on the foamy floor. As soon as we were reaching the ice I started to feel really scared because I thought I was going to fall and break my leg or arm. I slid my aid first and then I took the first step in it felt so different from what I thought it would feel. It was definitely a struggle to move to the edge, my feet just wouldn't move how I wanted them to they would only wiggle and felt like I was gonna fall. Seeing all the other people that knew how to skate made me feel like I couldn't learn like them. Then I carefully started not to feel as scared and went around the edge so clumsily when I was half way through I lost balance and fell right on my bottom which led to me breaking my screen protector on my phone.
They had to get everyone out since the ice was so shaved, we had a break which I needed because my feet hurt from the heavy skates and to readjust the straps on them. My cousin went ahead of me and I didn't want to go back in because I wanted to avoid falling as I had seen a lady fall and hit her head right on the ice. What really bothered me when I was skating was the kids and people just wouldn't care to be in the way. So that happened and a girl passed right in front of me and I fell.
Also, it was such a challenge to go fast and moving your feet but the textured side of the skates really helps moving around as it shaves the ice to give you a small push to keep going forward. Overall it was harder that I thought and definitely falling every time motivated me to keep trying to learn. I can't wait to continue where I left off next winter I go back, I recommend trying it and it's so much fun to do with your family and friends.
Featured Image: Google
Picture Credit: Google