What is a Quinceanera and How is it Celebrated?
Hang on for a minute...we're trying to find some more stories you might like.
The Quinceanera tradition is believed to have started many years ago when the Spanish Conquerors brought the tradition to Mexico, and others say the tradition originated with the Aztecs. Regardless, a Quinceanera celebration is a Hispanic tradition associated with Mexican, Central American and South American cultures.
It's a celebration of a girl going from her childhood to adulthood, it has its cultural roots in Mesoamerica and it is widely celebrated today throughout the Americas. The particular customs associated with the Quincenera probably date back to when Porfirio Diaz was president (1876-1911).
Customs:
Chamberlains: They are young men who escort the Quincenera. They perform a choreographed dance with the Quincenera. The dance is referred to as a waltz, but often includes other dance styles.
Damas: These are girls that are sometimes related to the birthday girl or friends. They also escort the Quincenera and perform the waltz.
La ultima muneca (the last doll): The birthday girl is given a doll which is her last doll since she will be too old to play with them later on, as part of the tradition, she will pass it on to her sister or younger family member.
El primer ramo de Flores (the first flower bouquet): The birthday girl is offer a bouquet of flowers as a young woman as a symbol.
Fifteen pinatas: The quincenera breaks 15 pinatas, which represents each year of her life.
Celebration:
It is mainly celebrated beginning with a "thanksgiving mass", to give thanks to the girl making the transition into a young woman. Afterwards they usually go to a saloon or a location to continue the celebration. They set up a tent for the guest to eat and sit. Then there is the entrance of the Quincenera, which is followed by the waltz with the chamberlains and damas. There is sometimes a plan surprised dance by the birthday girl and her damas or chamberlains. The father daughter dance is a very emotional moment for both people, it is a memorable day for the birthday girl.
Feature Image: Google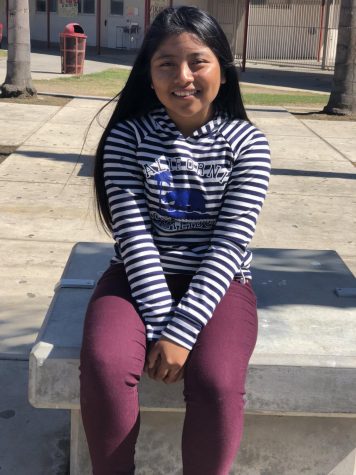 Adela Salazar, Contributor
Hello my name is Adela Salazar and I am currently a senior here at Hueneme high school. I am 17 years old and I am graduating this year (class of 2019)....