The Merriest Desserts for Christmas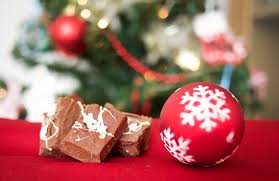 Picture Credit: Google
Tree-Shaped Brownie Torte Recipe
Ingredients:
Brownies:
1 pkg. fudge brownie mix
1/2 cup oil
1/4 cup water
2 eggs
Glaze:
1/2 cup whipping cream
1 pkg. (1 cup) semisweet chocolate chips
Frosting:
2 cups powdered sugar
1/3 cup margarine or butter, softened
1/2 tsp. vanilla
1 to 3 tbsp. milk
1 to 2 drops of yellow food color
Decoration:
15 chocolate star candies
1 tbsp. red and green candy-coated chocolate pieces
1 yellow gumdrop
1 chocolate- covered candy bar, cut in half
Steps:
1. Heat oven to 350 degrees. Line 13×9 inch pan with foil, extending foil over sides of pan; grease foil. In large bowl, combine all brownie ingredients; beat 50 strokes with spoon. Spread batter in greased foil-lined pan.
2. Bake at 350°F. for 31 to 33 minutes or until set. DO NOT OVERBAKE. Cool 30 minutes or until completely cooled. Freeze brownies 30 minutes.
3. Meanwhile, in small saucepan, bring whipping cream to a boil. Remove from heat. Stir in chocolate chips until melted. Let stand about 30 minutes or until spreadable. In small bowl, blend all frosting ingredients except food color, adding enough milk for desired spreading consistency. Transfer 1/3 cup of the frosting to small bowl; add food color and stir to combine. Set aside.
4. Using foil, lift brownies from pan; place on cutting board. To cut tree shape from brownies, start at center of 1 short side and make 2 diagonal cuts to corners of opposite short side, forming a triangular piece in center.
5.  Place 2 side pieces together on foil-lined serving tray to form tree shape. Spread with white frosting. Top with whole tree shape. Trim if necessary to line up edges.
6. Spread glaze evenly over sides and top of brownie torte. Pipe yellow frosting on tree for garland. Immediately top with star candies and candy-coated chocolate pieces. Flatten gumdrop with rolling pin; cut into star shape. Place star on top of tree. Place candy bar pieces at base of tree for trunk. Let stand 15 minutes or until set.
Christmas Sugar Cookie Pie Recipe
Ingredients:
1 pouch sugar cookie mix
1/2 cup butter, softened
1 egg
1/4 cup red, green and white candy sprinkles
1 1/2 cups powdered sugar
3 tbsp. butter, softened
1/2 tsp. vanilla
3 to 4 tsp. milk
Assorted holiday candies
Steps:
1. Heat oven to 325°F. Spray bottom only of 9-inch pie plate with cooking spray.
2. In large bowl, mix cookie mix, 1/2 cup softened butter and egg with spoon until soft dough forms. Stir in candy sprinkles. Press dough in bottom of pie plate.
3. Bake 33 to 38 minutes or until center is set and edges are golden brown. If needed, cover edges of cookie with foil to keep from overbrowning. Cool completely, about 1 1/2 hours.
4. In medium bowl, beat powdered sugar, 3 tablespoons softened butter, the vanilla and 3 teaspoons of the milk with electric mixer on low speed until smooth and creamy. If necessary, add additional milk to make frosting easy to spread.
5. Spread frosting over cookie pie. Decorate top of frosted cookie as desired with assorted holiday candies. To serve, cut into wedges.
Picture Credit: Google
Featured Image: Google
Source: https://www.pillsbury.com/recipes/tree-shaped-brownie-torte/1bd4c555-a822-4560-8174-3d11d6686f37
https://www.bettycrocker.com/recipes/christmas-sugar-cookie-pie/858d9a80-edd9-468d-8d3f-3b036ea94db0