Coca Cola or Pepsi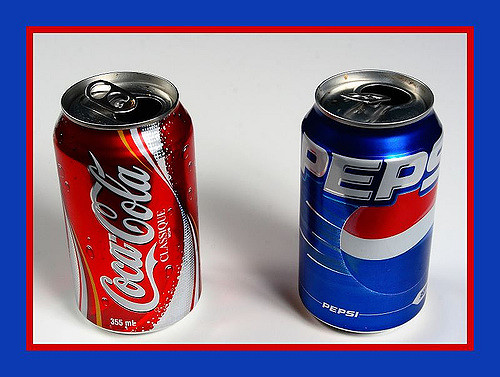 pc:google
There are two types of people, people who prefer Coca Cola or people who prefer Pepsi.
As it turns out, it all comes down to flavor. Coca Cola has a touch more sodium, than Pepsi and Pepsi packs more calories, sugar, and caffeine than Coke.
So Coke has a Vanilla-raisin taste that leads to a smoother sip and Pepsi's citrus flavor stands out because of it's sharp, zippy sip from the citric acid ingredients.
pc:google
This all begins with Pepsi in the early 1980. The marketing campaign, The Pepsi Challenge, set up a blind taste test between participants to determine if Pepsi was actually better than the leading Coca Cola. In the taste test, people prefer Pepsi because of it's sweeter sips.
So in 1983, The Coca Cola Company decided to revamp it's formula and created New Coke.It was a sweeter taste designed to mimic Pepsi's success at those blind taste test. The name"New Coke" was phased out and sooner called "Coca Cola Classic".
I got my information from :info
pc:google