Flamin' Hot Cheetos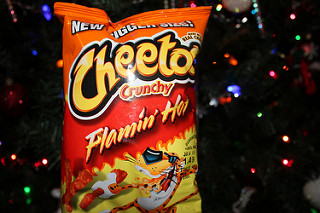 pc:google
There are people who love Cheetos and there are people who love Flamin' Hot Cheetos.  Everyone is obsessed with these hot puffy snack.  There is so much people who don't know about where the obsessed snack came from.
There's an incredible story behind how they were invented.  A janitor named as Richard Montanez invented the snack.  The idea took off, and since then, Richard became the executive vice president.
Hot Cheetos are my favorite snack to eat at school and my friends like to pour Tapatio hot sauce and lemon.
pc:google