Meet Varsity Football Player Levante Boyd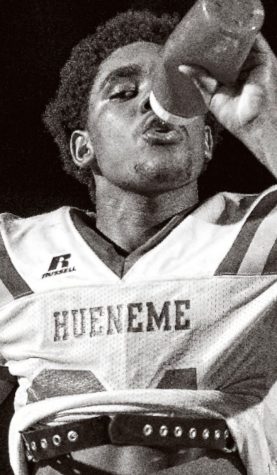 Levante is a very well known senior here at Hueneme High School. He's involved in the YES Academy and he does both football and basketball! Here are a few questions he was willing to answer:
1.When did you start playing football?
"I started playing football when I was seven years old."
2.Who is your inspiration?
"I am inspired by a few people including my two brothers that played football and my cousin Trashaun Nixon."
3.What career would you like to pursue in life?
"I would like to become a Physical Therapist and start my own business or become an athletic trainer for a professional sport preferably football or basketball."
4.What are your plans after high school?
"I'm not quite sure yet, but I have been accepted into GCU and will consider going there after high school. Although there might be some scholarships for football coming my way so I have not made my decision yet."
5.What do you like doing on your free time?
"I don't have much free time, but when I do I enjoy working out and keeping my body in shape and hanging out with my friends."
6.If you were able to travel anywhere in the world where would you go and why?
"I would like to travel to Hawaii because I'm interested in learning about the Hawaiian culture."