Get To Know Mr. Perez
Hang on for a minute...we're trying to find some more stories you might like.
Mr. Perez is a very well known teacher at Hueneme High. He is spoken of very highly and positively. He is one of the greatest teachers here and is very easy to talk to. He is also the coach for girls' varsity at Hueneme High and also a Hueneme High graduate.
1.  Did you play soccer when you were younger? If so, for how long?
A. "Yes, growing up I played soccer for about 6 years."
2. Why did you decide to become a teacher?
A. "I always loved history and coaching and I thought teaching high school would be the best fit for me."
3. What weird food combinations do you really like? Why?
A. "Waffles with yogurt on top instead of syrup. Don't knock it till you try it!"
4. What is one thing you love to do? Why?

A. "I've recently fallen in love with traveling. I love exploring new places and meeting new people, trying new food. I'll be going to Europe for 2 weeks as soon as were on vacation so I'm very excited!"
5. Do you have any regrets? If so, what are they?
A. "I wouldn't say I have any regrets. I feel I've learned from all of my mistakes and those mistakes have been necessary for my growth as as person and individual."
6. If you could travel somewhere for free, where would you go? Why?
A. "I would love to travel to Japan. I'm very fascinated by their culture and technology."
7. What is one of your weaknesses? How are you improving it?
A. "Probably being a little too nice to you seniors. I'm working on being a stricter teacher."
8. Do you like teaching at HHS? If so, why?
A. "I do, I love it. I graduated from HHS and so this is home for me."
9. What is one thing you would change about yourself? Why?
A. "This is kind of hard. I don't think I would change anything about myself. I'm very proud of where I came from and who I have become."
10. What is one thing no one knows about you?
A. "When I went to school at HHS as a student, I technically should have gone to Ventura High because I lived in their boundary. Sometimes I wonder how thing would have turned out if I went there instead of HHS."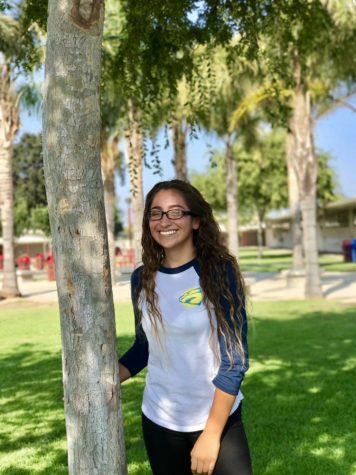 Colleen Castellon, Contributor
Hi, I'm Colleen Castellon and I'm 17 years old. I was born on Leap Year so I guess you can say I'm 4 years old. I have attended Hueneme High School since...