What is JROTC? HHSS Extended Family
"We are more than just a group of teenagers. We are more than just a program. We are a family, and we stick together." - K.G
October 12, 2022
JROTC stands for the Junior Reserve Officers' Training Corps. It is a federal program sponsored by different branches of the military across the United States. There are Navy, Army, Marine Corps, Coast Guard, and Air Force JROTCs in schools across the nation. The program was created as part of the National Defense Act of 1916 and later expanded under the 1964 JROTC Vitalization Act.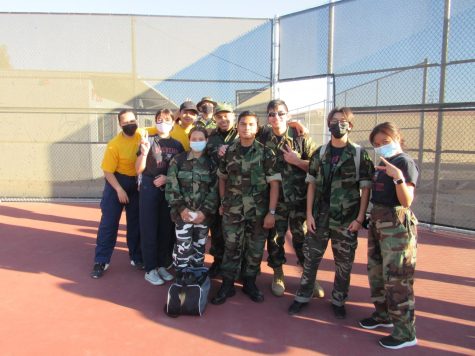 What makes JROTC special and why should you join? Some people may believe it is a program established to recruit students into the military. However, that is a common misconception. Here, we have NJROTC students at Hueneme High School giving their insight into the program. Students that already have 2-4 years in the program are in leadership positions. They put their efforts into not just making the program better, but also making new cadets feel welcomed and pushing them to be the best they can be. They do not see the program as another class, but as a family.
The program's POW (Plan of the Week) is straightforward: Mondays and Tuesdays include PT (physical training) where the JROTC students, also referred to as cadets, do their Daily 16, which consists of various exercises such as stretches and abdominal workouts. They also have various options for sports where the cadets get to decide what to play for the week. This is to promote a healthy lifestyle and camaraderie with their fellow cadets. Wednesdays and Thursdays are academic days where the cadets study current events around the world as well as "CERT." CERT stands for Community Emergency Response Team. This program trains cadets in basic disaster response skills such as fire safety, light search, team organization, and cribbing. Fridays are uniform days when cadets wear uniforms that are provided by the Navy. Cadets are expected to be well-groomed and keep their uniforms orderly. One cadet that wanted to maintain anonymity remarked, "The uniform not only gives you confidence and makes you look professional, but once you wear the uniform it can also give you the leadership skills that you need."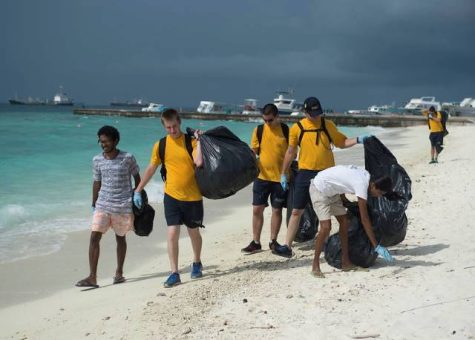 In the beginning, students may feel out of touch with their surroundings, but over time, they get to realize that they are finding themselves a new family at school. Students in the JROTC program get to learn how to be capable of doing more than they initially think. The program was not only intended to teach students leadership skills, but also to provide them a comfort zone, a place where they see classmates as brothers and sisters, people that they can trust, and a program that will change their life for the better. 
If you want to challenge yourself, try JROTC! You can talk with your counselor or go directly to Commander Pablito Quiatchon and Chief Stephen Hayes in room Q9. If you are looking for more information about the program, you can go to the Hueneme HS NJROTC website or their Instagram @huenemehsnjrotc. It is a special opportunity that not only will teach you how to be a better student, but teach you the core values of Honor, Courage, and Commitment.