Coco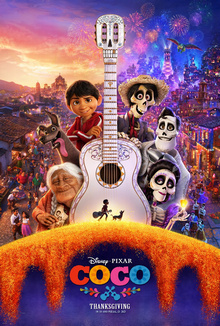 Hang on for a minute...we're trying to find some more stories you might like.
The Story
*SPOILERS*
Miguel is a boy who aspires to become a great musician like his idol, Ernesto de la Cruz. He lives with his family in a town called Santa Cecilia. His family owns a shoe-making business and want Miguel to continue the business. He wants to play music, but his family has banned all music. In secret, he goes to play his guitar and admires his idol.
One day, he goes to his family altar and accidentally drops his great great grandmothers portrait. It was a family picture and it included his great grandmother Coco, and his great grandfather, whose face was not shown because it was torn off by his family. He finds out that his great great grandmother's husband is holding his idol's guitar. According to his family, his great great grandfather abandoned the family, making him a disgrace. Now that he knows Ernesto de la Cruz is his great great grandpa, he goes to play for the talent show.
His grandma broke his guitar, so he went into his idol's mausoleum and took his famous guitar. Attention was drawn and people came to see what happened. Much to his surprise, the people were not able to see him or touch him. He then started seeing skeletons as well. He eventually finds his deceased relatives. Only the dead and his dog Dante were able to see him.
His relative's take him to the Land of the Dead and find his great great grandmother, Imelda. She is not able to visit the Land of the Living because Miguel took the photo off of the altar. Imelda then gives Miguel an Aztec marigold with her blessing, which allows him to go back to the Land of the Living. However, she said he will no longer play music. When Miguel goes back to reality, he disobeys and grabs Ernesto's guitar, making him come back to the Land of the Dead. He then runs away and hopes to get a blessing from his idol.
Along the way, he meets Hector, a poor skeleton who doesn't look in the best condition. He has not been able to cross to the Land of the Living because no one puts up his picture. He tells Miguel he will take him to Ernesto if he puts his picture up when he goes back to his home. Hector tells Miguel that he once played with Ernesto de la Cruz.
After having an argument with Hector, Miguel goes inside Ernesto's mansion by himself and find his great great grandfather. He played a song to catch his attention and Ernesto is very happy to find his great great grandson. However, Hector comes in and then realizes that Ernesto poisoned him and took credit for all of the songs he composed. Shortly after, Ernesto throws both of them into a cenote, a large pit.
It is also revealed that Coco is Hector's daughter, meaning that Hector is actually Miguel's great great grandfather. He did not actually abandon his family, but he was going to return to them. That was when Ernesto decided to poison him.
Miguel and Hector, along with his relatives go to Ernesto to seek justice and get Hector's photo back. They intervene his concert and expose him in front of the entire audience. He then is killed by having a bell fall on him, just like how he died in real life.
The photo was lost and Hector was now at the point of being forgotten. Imelda gave Miguel the blessing without any condition and he returned back home. He went to his great grandmother Coco and played one of her childhood songs "Remember Me." She remembers about her dad and pulls out the torn off piece of the photo, revealing Hector's face. Music is no longer banned in Miguel's house.
A year later, Coco is no longer with them, but Miguel has a baby sister. At the end, he plays a song both for the living and dead.
My Thoughts
This movie was incredible!! I cannot lie, I was at the verge of shedding a tear. It was a very emotional movie with a big plot twist. The story line was amazing. I would definitely watch this movie again.
The aesthetics of the movie make it very brilliant and appealing. There is a lot of color to it that captivates us. Along with that, there are several references that people living in a Mexican household would understand such as la chancla. In the Land of the Dead, you get to see famous Mexican icons such as Pedro Infante, Jorge Negrete, and Frida Kahlo. In the Spanish dub, Ernesto de la Cruz is voiced by the famous Mexican singer Marco Antonio Solis.
Another thing I really enjoyed were the songs that they used for the movie. The most memorable song is "Remember Me" or "Recuerdame". It is the same song that was sung to Coco. The movie seemed to pay a lot of respect towards the time period of the Golden Age of Mexican Cinema. It is no wonder why people say Ernesto de la Cruz has a similar appearance to Pedro Infante.
If you know Spanish, I recommend watching the movie in Spanish just to give it an even more authentic feel to it. Go and watch it with your family and friends!