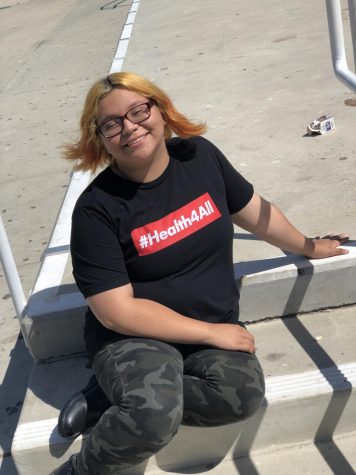 Hello, my name is Kimberly Garcia and I'm a senior at Hueneme High School. I perform with the school's mariachi program to eventually play professionally. I also work with CAUSE Oxnard to protect the city's environment.
I like to listen to hip-hop, rap, and Latino to motivate myself. I play video games on my Nintendo Switch because they're entertaining. I started getting into gardening and maintaining succulents, I like getting my hands dirty. I draw in my free time as well since it serves as a good creative outlet.
My goal for my future is to take a gap year to save up money for tuition. Once I save up, I want to attend a four-year university and study political science and Spanish to become an immigration lawyer. I also want to perform as a professional mariachi to honor my cultural roots. I eventually want to enter Oxnard's city council to help the community that made me.
Kimberly Garcia, Contributor
May 11, 2020

E3, The Country's Biggest Gaming News Event, Canceled Due to COVID-19 Concerns

(Story)

Mar 12, 2020

Highlights from San Quentin News's February 2020 Edition

(Story)

Mar 12, 2020

The Fossil Fuel Industry's Involvement in the Ventura County Supervisor Election

(Story)

Feb 12, 2020

In Memoriam of Officer Nathan Martin

(Story)

Feb 12, 2020

Lawsuit Against Oxnard Over Measure B

(Story)

Jan 31, 2020

LA Lakers' Kobe Bryant Dies in Helicopter Crash

(Story)

Jan 27, 2020

Efforts to Counter New and Fatal Virus

(Story)

Jan 27, 2020

President Trump's Controversial Travel Ban to Expand

(Story)

Jan 27, 2020

Former Wells Fargo CEO Exiled from Banking Industry

(Story)

Jan 14, 2020

Housing Crisis in Ventura and Santa Barbara Counties Exposed by CAUSE Report

(Story)

Jan 14, 2020

The Oxnard Performing Arts Center's Fate in 2020

(Story)

Jan 08, 2020

Supreme Court Keeps Previous Ruling, Preventing Homeless People from Getting Ticketed for Sleeping Outside

(Story)

Jan 08, 2020

Protests in France Regarding Retirement Policies Continue

(Story)

Dec 13, 2019

California Air Resources Board's Electric Truck Public Hearing

(Story)

Dec 11, 2019

American Students' Test Scores are Decreasing

(Story)

Dec 09, 2019

The Amazon Rainforest After New President's First Year in Office

(Story)

Dec 05, 2019

The Future of Ormond Beach's Power Plant

(Story)

Dec 05, 2019

Democratic Presidential Candidate Updates

(Story)

Dec 02, 2019

Colombia Joins Political Outcry in Latin America With Protests

(Story)

Nov 21, 2019

SEIU 721 Reaches Tentative Agreement for Oxnard Workers

(Story)

Nov 21, 2019

Test Scores Scandal Develops as Culprits Begin to Plead Guilty

(Story)

Nov 20, 2019

Aftermath of Coup in Bolivia

(Story)

Nov 20, 2019

The Current State of DACA

(Story)

Nov 07, 2019
Nov 06, 2019

President Trump Threatening to Revoke Federal Aid for California Wildfires

(Story)

Oct 15, 2019

Aaron Starr's Proposed Measures for the Local 2020 Ballot

(Story)

Oct 09, 2019

The Man Spreading Pride for the 805

(Story)

Oct 03, 2019

Chicano Literature Assignment: Creation of the Dahlia

(Story)

Oct 03, 2019

Spider-Man to Stay in Marvel Cinematic Universe

(Story)

Sep 25, 2019

Ventura's Water Situation

(Story)