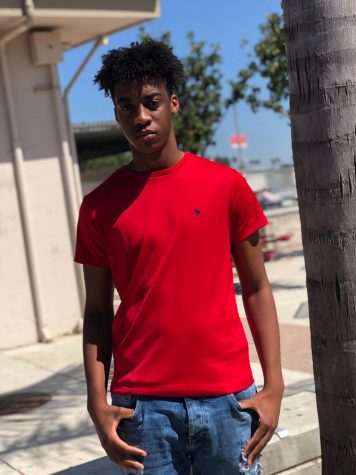 Hey, my name is Kayvon Mosby and here are some facts about me. I am a senior and a student-athlete here at Hueneme High School. I have only one sister who is a sophomore here as well. I have been playing basketball since my freshman year and I'm currently on the varsity team. Some of my hobbies include drawing and listening to music. My favorite video game is NBA 2K because I love playing with NBA players. 
          My favorite hip hop artist is Gunna because I like his style and flow. The Oklahoma City Thunder is my favorite NBA team because I like the way they play and the players they have such Chris Paul and Steven Adams. My favorite player would have to be Brandon Ingram because he fits my playing style. My plan after high school is to go to Oxnard College and then transfer to a four-year university.
           My dream job is to be a graphic designer since I love drawing as a kid. If there is one play where I like to travel it would be the Bahamas because I heard it's beautiful and I would love to learn about their culture.
 I also like writing about trends because they always come and go and I like to remember what was the thing; such as dance moves or fashion.
        For the most part, this is just a brief intro about me. I hope you are looking forward to the articles this year. 
Kayvon Mosby, Contributor
May 26, 2020

Space Jam 2 Coming Out In 2021

(Story)

May 26, 2020

My 8 Favorite YouTubers

(Story)

May 26, 2020

DaBaby's "Blame It On Baby" Album Review

(Story)

May 26, 2020

Lights Out Movie Review

(Story)

May 20, 2020

Top 10 Childhood Movies

(Story)

May 19, 2020
May 19, 2020

Eternal Atake (Deluxe) – LUV vs.The World 2 Album Review

(Story)

Mar 13, 2020

Lil Uzi Vert"s Eternal Atake Album Review

(Story)

Mar 13, 2020

35 Years With Nintendo

(Story)

Mar 08, 2020

Kendrick Lamar or J. Cole? Who is the Better Rapper?

(Story)

Mar 08, 2020

Lil Baby's "My Turn" Album Review

(Story)

Mar 02, 2020

Aaron Gordon Got Robbed From the NBA Dunk Contest Twice

(Story)

Feb 27, 2020

The Unfortunate Passing of Officer Martin

(Story)

Feb 24, 2020

2020 NBA All-Star Weekend is Coming Up!

(Story)

Jan 27, 2020

Zion Williamson Makes His NBA Debut

(Story)

Jan 23, 2020

Video Games From the Past

(Story)

Jan 22, 2020

My 1st Senior Semester

(Story)

Jan 14, 2020

Top 12 Dances From the 2010 ERA

(Story)

Jan 08, 2020

The Nintendo Switch Lite

(Story)

Jan 07, 2020

Apple AirPod Pros

(Story)

Dec 16, 2019

A Recap of the 2010's

(Story)

Dec 12, 2019

The NBA Christmas Games

(Story)

Dec 11, 2019

The Best Rappers in the 90's

(Story)

Dec 07, 2019

The Legacy of LeBron James

(Story)

Dec 05, 2019

The Most Popular Christmas Snacks

(Story)

Dec 03, 2019

Ben Simmons Makes His First 3-Pointer

(Story)

Nov 22, 2019

The Origin of Portable Music

(Story)

Nov 21, 2019

Which Celebrity Has the Best Fashion?

(Story)

Nov 15, 2019

Philadelphia 76ers vs Portland Trail Blazers Game

(Story)

Nov 15, 2019

Hueneme High Winter Sports

(Story)

Nov 13, 2019

NBA's Top 8 Signatures Moves

(Story)

Nov 05, 2019

iPhone vs Samsung: What would you Prefer?

(Story)

Nov 04, 2019

Top 8 Tongue Twisters

(Story)

Oct 29, 2019

Clippers vs. Lakers "Round 1"

(Story)

Oct 29, 2019

Citrus Coast Leauge 1 Year Later

(Story)

Oct 29, 2019

The Most Popular YouTubers Now

(Story)

Oct 25, 2019
Oct 25, 2019

Top 12 Nickelodeon TV Shows

(Story)

Oct 09, 2019

Top Rap Artists From Every Generation

(Story)

Oct 09, 2019

My Experience here at HHS

(Story)

Sep 30, 2019

The Karate Kid Series (1984-1989)

(Story)

Sep 30, 2019

8 Interesting Facts About Movies

(Story)

Sep 28, 2019

Hueneme HS Basketball Program

(Story)