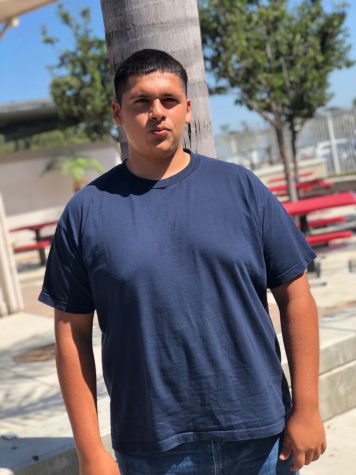 Hi, my name is Cesar and I'm a junior at Hueneme High School. I like playing football because it is my favorite sport to play and I also play it for my school. My favorite food is pepperoni pizza because I tend to like Italian food better than any other. I like to listen to music because it helps me meditate and to play video games with friends because I get to spend free time with them.
When it comes to academics, my favorite subject in school is math because I'm good with numbers. When I don't have anything to do I love spending my time at the movie theater to watch action and comedy films and my favorite season is winter because I like being able to stay at home and watch movies.
Therefore, my favorite app on my phone is Netflix since I'm able to watch my favorite movies and shows whenever. On the other side, I enjoy nature and more when I have the chance to camp because I spend time with family.
Cesar Rangel, contributor
Mar 09, 2020

10 facts about the Gulf of Mexico

(Story)

Mar 08, 2020

8 Facts about the XFL

(Story)

Mar 03, 2020

What is inside a Paintball

(Story)

Mar 02, 2020

Hueneme High School New Head Coach

(Story)

Feb 12, 2020
Feb 03, 2020
Jan 31, 2020

SuperBowl LIV Commercials

(Story)

Jan 23, 2020

NFC and AFC Championships

(Story)

Jan 14, 2020
Jan 09, 2020
Jan 09, 2020

Titans Vs Patriots

(Story)

Jan 08, 2020

NFL Equipment: Cleats

(Story)

Dec 22, 2019
Dec 11, 2019

history of christmas lights

(Story)

Dec 09, 2019

10 Weird Laws in California

(Story)

Dec 05, 2019

Who will be the MVP of the NFL

(Story)

Nov 22, 2019

What Makes a Firework Have Different Colors

(Story)

Nov 20, 2019

Myles Garrett vs Mason Rudolph

(Story)

Nov 18, 2019

History of the NFL

(Story)

Nov 18, 2019

SeaHawks vs 49ers recap 2019

(Story)

Nov 18, 2019

Why Athletic Trainers Are So Important

(Story)

Nov 13, 2019

Snowboarding Facts

(Story)

Nov 06, 2019

Giant Sequoia Trees

(Story)

Nov 04, 2019

Hueneme vs Nordhoff Recap

(Story)

Oct 29, 2019

Most Popular Teams in the NFL, NBA, and MLB

(Story)

Oct 28, 2019

Hueneme vs Fillmore Recap

(Story)

Oct 25, 2019

Hueneme vs Santa Paula Recap

(Story)

Oct 09, 2019

10 Interesting Facts about California

(Story)

Oct 09, 2019

Hueneme vs Carpenteria recap

(Story)

Sep 25, 2019

Hueneme vs Granada Hills recap

(Story)