The 911 Imposter: Tania Head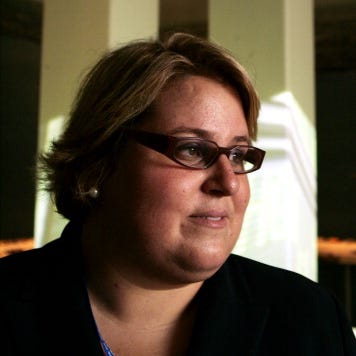 Imagine fooling the media with a fabricated story. Imagine gaining fame from a tragic event. Tania Head can. On September 11th, 2001, the World Trade Center was attacked by terrorists, ending in tragic deaths with few survivors. One of those survivors was Tania Head, or so she claimed. 
Tania Head was in a meeting the day of, at 8:46 AM, in the South Tower. Her fiancé Dave, a consultant, was on the 100th floor of the North Tower, one level above the floor that the second plane hit. The south tower was hit at 9:03 AM, which Tania was in. She elaborates on her experience. She remembers the horrible carnage and dust in the air while her arm was nearly severed and burned. She explains how a dying man handed her a wedding ring requesting she give it to his wife, then being saved by Welles Crowther or "The man in the red bandana." 
Six days later, she woke up in a burn unit at the hospital, only to find out her fiancé had died. "I kept thinking about my fiancé and about our wedding. I wanted to wear that white dress and swear my love for him," said Tania when she spoke of how devastated she was. She became the face of 9/11 survivors. She told her story to the media, to mayors Rudolph Giuliani and Michael Bloomberg, as well as governor George Pataki, taking them on the first tour of ground zero. She used her own money to fund trauma experts and hosted fundraisers. 
Suspicions began to rise when she started adding more details and showing inconsistencies in her story. She'd switch from calling the man in the North Tower her husband, to calling him her fiancé. She was requested to do an interview for the anniversary of the attack, but things started to not match up. She claimed to have attended Harvard and Stanford and worked for Merrill Lynch at the World Trade Center. After a background search was conducted, none of her claims or information could be detected. She was a fraud.
Her real identity is Alicia Esteve Head, "the woman who wasn't there." Alicia had a wealthy and privileged upbringing in Mallorca, Spain. She began attending Esade Business School of Barcelona in 2001 and came to the United States in 2003. 
Discovering her story was all a lie that took effect on the other survivors. Why she fabricated her story has not been determined. She disappeared from the public eye not too long after. Her whereabouts and information remain unknown.