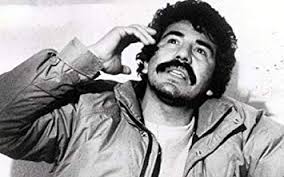 Rafael Caro Quintero was born on October 3, 1952, and is a Mexican drug trafficker who co-founded the now-disintegrated Guadalajara Cartel with Miguel Ángel Félix Gallardo and other drug traffickers in the 1970s. He is the brother of fellow drug trafficker Miguel Caro Quintero, the founder and former leader of the defunct Sonora Cartel.
Having formed the Guadalajara Cartel in the 1970s, Caro Quintero worked with Gallardo, Ernesto Fonseca Carrillo, and Pedro Avilés Pérez by shipping large quantities of marijuana to the United States from Mexico.  After the murders, Caro Quintero fled to Costa Rica but was later arrested and extradited back to Mexico, where he was sentenced to 40-years in prison for murder. Following his arrest, the Guadalajara Cartel disintegrated, and its leaders were incorporated into the Tijuana Cartel, Sinaloa Cartel, and Juárez Cartel.
Caro Quintero was freed from jail on August 9, 2013, after a state court concluded that he had been tried improperly. However, amid pressure from the federal government of the United States to re-arrest him, a Mexican federal court issued an arrest warrant against Caro Quintero on August 14. He remains at large, as a wanted fugitive in Mexico, the United States, and several other countries. The United States is offering a $20 million bounty for his arrest.
Source: Google
Image Credit: Google
Featured Image: Google