Lonzo for the triple double
Hang on for a minute...we're trying to find some more stories you might like.
Lonzo Ball an American professional basketball player for the Los Angeles Lakers becomes the youngest player in the NBA history to record a triple double.
On Saturday November 11,2017 
"Ball finished with 19 points, 13 assists, 12 rebounds, had 3 steals, and a career-high-tying 4 blocks. Afterwards, Ball said the triple-double didn't mean anything because the Lakers lost 98-90, their third straight defeat.
"I really don't care," Ball said of the personal feat. "We took a loss. It don't really mean nothing."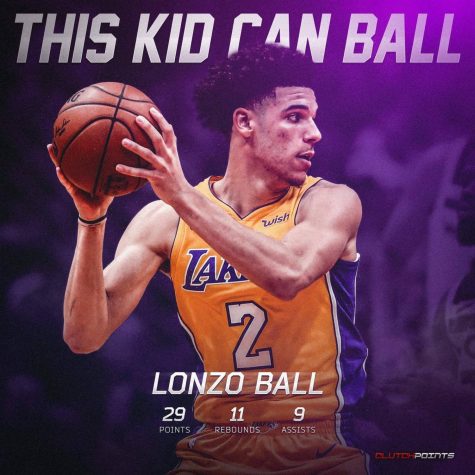 On Sunday November 19 Lonzos Second triple double was a Win against Denver Nuggets 127-109
""This one was a lot better," Ball said. "I actually like this one. Just keep building on it."
Ball and Magic Johnson are the only Lakers with multiple triple-doubles in their rookie seasons. Johnson had seven, and his new point guard has two in his first 17 games.
"You should always play better in front of your fans, so I'm just trying to put on a good show for them and win at the same time," Ball said.
Credit: http://www.espn.com/nba/story/_/id/21382038/lonzo-ball-los-angeles-lakers-youngest-nba-history-get-triple-double, https://www.usatoday.com/story/sports/nba/2017/11/19/lonzo-balls-triple-double-sends-lakers-past-denver-127-109/107863484/