Meet Faletuipapai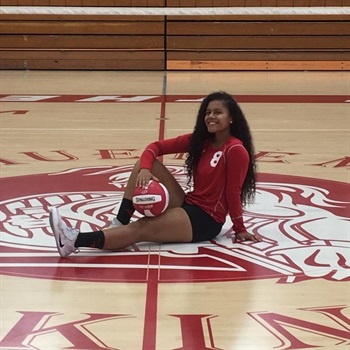 Hang on for a minute...we're trying to find some more stories you might like.
Fale is a sophomore at Hueneme High. Her full name is Faletuipapai Carrillo but, we call her Fale and no it's not pronounced as "fail". Fale plays volleyball, basketball, and beach volleyball and she's also in Varsity in all three sports! She has also organized a club called "LGBTQ" and is planning on organizing another one as well.
Q: What sports do you play? What is your favorite sport? Why?
A: "I play basketball, volleyball, and beach volleyball. My favorite sport is basketball because it's a physical sport."
Q: Who helped you organize the "LGBTQ" club?
A: "My basketball coach/counselor, Katalina Martinez and my volleyball coach/math teacher, Nicole Corona, helped me organize the LGBTQ+ club."
Q: What annoys you the most? Why?
A: "So many things annoy me. There isn't just one thing that annoys me. For example, one day I can be annoyed by every person that interacts with me and another day I can just be annoyed with the way people talk."
Q: What has been your biggest challenge?
A: "My biggest challenge is having all honors and AP classes, playing year-round sports, getting volunteer hours outside of school, and being involved with school clubs and activities."
Q: How would you describe yourself?
A: "I would describe myself as everything there is to describe yourself because I have different moods every single day. Besides not being loyal and being fake because I am straight up and I wouldn't want to hurt anyone. I'm kind of everywhere with my personal traits."
Q: What do you like to do on your free time?
A: "First of all,  free time doesn't really exist in my schedule but, I guess I can say that I love listening to music on my free time because I have headphones in my ears 24/7."
Q: Who is your role model? Why?
A: "My role model is my aunt, Tumusa. She sets the example so good, she makes it seem like she has everything together even though I know she has struggles. She also gives good advice on anything and also strives to be a better person everyday along with her six kids."
Q: What do you want to be when you grow up? Why?
A: "I want to be a Pediatric Surgeon when I grow up. Grey's Anatomy kind of encouraged it but, I always wanted to help people and being a Pediatric Surgeon is a huge contribution to that, specifically to children."
Q: Who do you go to when you feel blue? Why?
A: "When I'm feeling blue, I just handle it myself, even though I know I have a best friend and a sister to go to, I keep it to myself because I can handle it alone."
Q: Are you planning on organizing a new club later on?
A: "As a matter of fact, I am planning on organizing another club. I was thinking like a "Poly Club" where we talk about culture, doing activities involving our culture, and eating our culture foods."