12 Facts About Ariana Grande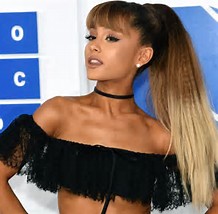 Hang on for a minute...we're trying to find some more stories you might like.
Here are 10 cool facts about Ariana Grande.
1:) Ariana was 13 when she first became famous by acting.
2:) Ariana's full name is Ariana Grande-Butera.
3:) She was born on June 26, 1993.
4:) She is Italian; half Sicilian and half Abruzzese.
5:) She was raised in Boca Raton, Florida.
6:) Her parents moved from New York to Florida before they had her.
7:) Her mom's name is Joan Butera and her dad's name is Edward Butera.
8:) Ariana's parents split up when she was about 8 or 9 years old.
9:) Ariana has a brother named Frank James Micheal Grande Marchione who is ten years older than she is.
10:) Ariana has six dogs Their names are: Coco, Toulouse, Ophelia, Fawkes, Cinnamon and Sirius Black.
11:) Ariana's favorite school subject is science.
12:) Ariana is 5′ 1″ tall.